TV Everywhere...but not in Antigua
TV Everywhere. We hear about it all the time don't we? There's Apple TV, Amazon, Hulu, Netflix, Yahoo and a gazillion WATCH Apps. There are connected TV's, Xboxes and Roku's. TV is everywhere. TV Screens are everywhere too. There are TV screens in almost every bar and restaurant. There's a TV screen at the deli counter in Shop Rite and at another one at the register. There are TV screens in my mall and my local pizza place. There's a TV at the bagel place and one in my nail salon. If those screens aren't enough there's always my iPad and of course there's the one glued to my palm at all times (except when I have to pee-learned that lesson the hard way). I can pretty much watch anything anywhere, right? I can watch Game of Thrones while waiting for my cortisone shot at the orthopedist. I can watch Real Housewives of any city sitting on the pickup line at the middle school. I can watch Survivor and The Goldbergs at Baseball Heaven in Yaphank NY in between innings. You get my point, right? TV is everywhere! Well, I can tell you where TV isn't... Antigua. Who knew there was a place without TV in this day and age. How ironic that a self proclaimed TVholic/TVblogger/media strategist, could walk into a spectacular ocean front suite for the first non-Jersey shore vacation in 2 years and only notice one thing...there was no TV. NO TV. There must be some mistake. I am a planner. I am a relentless question asker and researcher. The resort came highly recommended from real people and from countless strangers on Trip Advisor who bitch about everything from water pressure to toilet paper. I had painstakingly chosen this resort over so many others and NEVER, ever, did it occur to me to even ask the question: IS THERE TV? I looked around very carefully and said out loud to my husband and 13 year old son..."What are we going to do? Should we leave?" I had that anxious feeling in my chest. Can I make it for an entire week without TV or Xanax? Then I realized...Waiiiiit a minute, we have free WiFi...NO PROBLEM...I had 2 Ipads, I had an I touch, 2 Iphones and 2 Droids. No biggy...we could watch everything we needed on all of the WATCH APPS, no problem at all, right? WRONG. TV ISN'T EVERYWHERE...it's only everywhere in the United States. Nothing worked. Every time I thought I was IN and and could catch up on Rayna and Deacon, Jeff and the Merica tribe, Ragnar and Alicia Florick, I saw this message: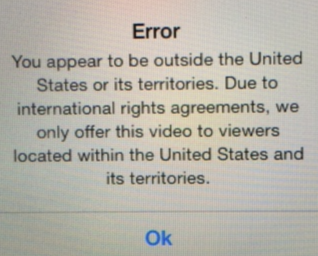 Every day of vacation I woke up with hope that I'd find a solution to my problem. This addict was looking for a fix. Anyway she could get it. Over the course of 7 days, at one of the most beautiful resorts I'd ever been to, I'd lie awake searching for some way to watch Survivor, Nashville or The Americans. Sure, Netflix was good for a while. Bloodline, Kimmy Schmidt and Happy Endings took the edge off and kept the shakes at bay, but it wasn't enough to make the pulsing in my chest disappear. Then... it happened, I found one show, right there where it should be, and with a click, there was The Tonight Show with Jimmy Fallon. Ironic, right? My FBFF was there for me like a good future friend should be. www.nbc.com/TheTonight Show gave me Jimmy, Madonna and The Roots performing "Holiday" on children's instruments. It gave me Jimmy and Kevin James performing awkward slow motion fight scenes, and of course, it gave me Jimmy and Julia Louis-Dreyfus playing the whisper game. I watched the Thank You Notes segment, Tonight Show #hashtags and some magician I'd never heard of before pull off an unbelievable magic trick. My FBFF saved the vacation and proved that maybe TV isn't always there, everywhere for me when I need it, but Jimmy Fallon and The Tonight Show was!