Two and a Half Men. Nina Tassler, CBS entertainment president, revealed at the Television Critics' Association summer press tour that Ashton Kutcher's role on the show will be that of an "Internet billionaire with a broken heart" named Walden Schmidt. She also revealed that the first episode of season 9 will be a two-part one, airing over two weeks.
CSI:NY. Now that Danny is out in the field again, his marriage might go through some hard times as he bonds with a rookie cop by the name of Officer Chambers. The season will also open with Mac going through the 10th anniversary of his wife's death in the 9/11 attacks.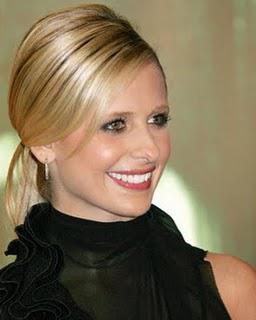 All My Children. Sarah Michelle Gellar announced at the Television Critics Association's summer press tour that she offered to return to the long-running soap opera, but it will not be as Kendall, the role she had between 2003-2005 and is now held by Alicia Minshew. Instead, she will have a guest spot, but details of what that will be have not been revealed. Gellar will return to television this fall, in one of CW's new series, Ringer, premiering September 13.
The Middle. Ray Romano, who's show, Men of a Certain Age, was just cancelled by TNT, will reunite with his former Everybody Loves Raymond co-star, Patricia Heaton, in ABC's sitcom. As per TV Guide Magazine, Romano will make his appearance on the third season premiere, on September 21, as a man from Frankie's past who might have been responsible of ruining her honeymoon with Mike years ago.
Game of Thrones. The HBO drama has cast German actor Tom Wlaschiha as assassin Jaqen H'gar. He joins the rest of the new additions to season two, Gemma Whelan (as Yara Greyjoy), Carice van Houten (as sorceress Melisandre), Stephen Dillane (as Stannis Baratheon), Liam Cunningham (as Davos), Gwendoline Christie (as Brienne) and Natalie Dormer (as Margaery Tyrell).
Revenge. How I Met Your Mother's Robbie Amell, who played the part of Robin's Canadian and slightly dog-ish boyfriend, will play a recurring role on ABC's new drama Revenge, which will start airing this fall. Amell will play a wealthy Yale student involved in a love triangle with Charlotte Grayson (Christa B. Allen) and Declan Porter (Connor Paolo). Revenge premieres Wednesday, September 21.
How I Met Your Mother. Executive producer Craig Thomas revealed that House alum Kal Penn will play the role of Robin's therapist, who will also become her romantic interest over the course of the show's seventh season. He also talked about the woman Barney is going to marry, and it will be one of several options he will have this upcoming season, including Nora and Robin. Season 7 will begin exactly where last one left off, meaning at his wedding, and we're going to find out the identity of his bride by the end of the season.