Recipe: Amrita Banerjee, Photography: Saugata Banerjee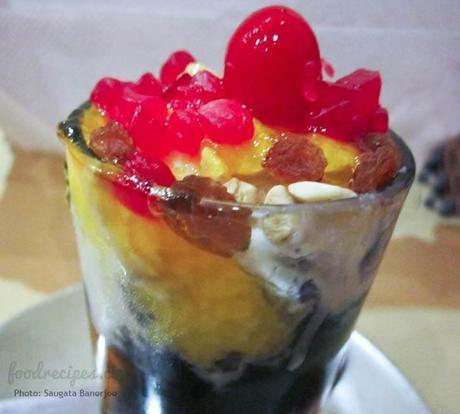 Tutti Frutti Delight
This weekend I expressed a desired to create fruit ice-cream at home. Especially for my brother, who looks for ways to boost fruit intake. Tutti fruitti being a hot summer favorite I chose to prepare some of it using only dry fruits, fruits , milk and sugar. As we all know that few things are irresistible as ice cream in summer time. And making one's own is easier than one might think. So here is a fun and delicious way to make homemade 'Tutti Fruitti Delight' ice cream. I'm sure you would love to churn up the same recipe at your next summer party.
Ingredients:
2 scoops Vanilla ice cream
3 tbsp Mixed fruit jam
2 tbsp Mixed fruit
3 to 4 tbsp Dry fruits
Cherry- 1 for garnishing
Chocolate sauce- for garnishing
Whipped cream (as per requirement)
Preparation:
Take a slender glass; put mixed fruit at the bottom of it. Add a scoop of vanilla ice cream to it. Then put mixed fruit jam over the scoop. Then take a handful of dry fruits and sprinkle over it. Repeat the same process with another scoop of vanilla ice cream. Add another layer of mixed fruit, jam, raisins and finish it beautifully with a cherry over the final scoop. Garnish it carefully with thin rings of chocolate sauce and a tuft of whipped cream.
The same process can also be done with two different flavored scoops of ice creams. Like, vanilla and two in one.
Now, serve it with love!!!

Amrita and Saugata Banerjee, are a husband and wife duo whose common passion run into the world of food exploration. Amrita is a Special Educator by profession and a foodie by passion. Her cooking call came with her marriage two years back and she hasn't stopped since. Saugata is a 'Dream Chaser' and an amazing photographer by profession. Cooking and experimenting with vegetables has become his hobby as well.