Tuscan Bathroom Design is a style that is reminiscent of one of the most historic regions of the world. Nestled in the hills of Italy, Tuscany is known for breathtaking vineyards, warm weather, and a traditional artistic past that is rich in high culture. You see, Tuscany is noted as the original birthplace of the Renaissance. Tuscan Design captures these naturally occurring elements and decorates the bathroom with a dramatic ambiance that captures the regions storied past.
Tuscan is an old world fashion that is characterized by a refined and gently aged appearance. In contemporary times, this old world charm is dressed with modernized amenities that keep it trending and relevant. Tuscan bathroom design employs warm color palettes and a rich use of traditional metals to distinguish it from similar styles of design.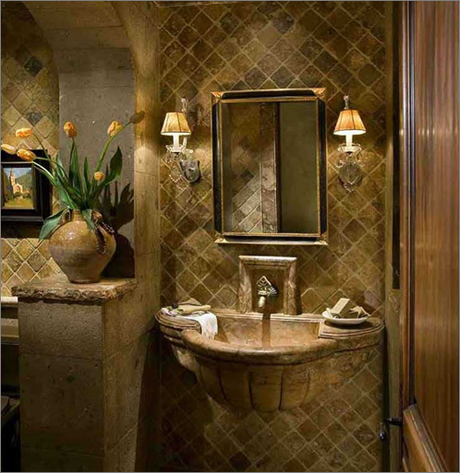 Tuscan vs Mediterranean Bathroom Design
First off, let's clear up a common misconception. Mediterranean and Tuscan design are not the same thing! Tuscan and Mediterranean are often used interchangeably but these decorative styles have distinct differences. Although the two regions are closely related, small details distinguish the two apart. This is not to say that they don't share certain characteristics.
Both Mediterranean and Tuscan style homes use warm colors and feature earthly accents that give off a sensual rustic feel. Mediterranean bathrooms are influenced by Southern European countries like Spain, Italy, and Greece.  In short, Tuscan style is a sub-category of Mediterranean design that is specific to the city of Tuscany, Italy.
As a comparative, Tuscan-style bathrooms replicate a style that is directly from Tuscany. Much of Tuscan design is taken from cues from the surrounding Italian Countryside. I'll begin by distinguishing the difference between Mediterranean and Tuscan bathroom designs and follow with a detailed breakdown of Tuscan design.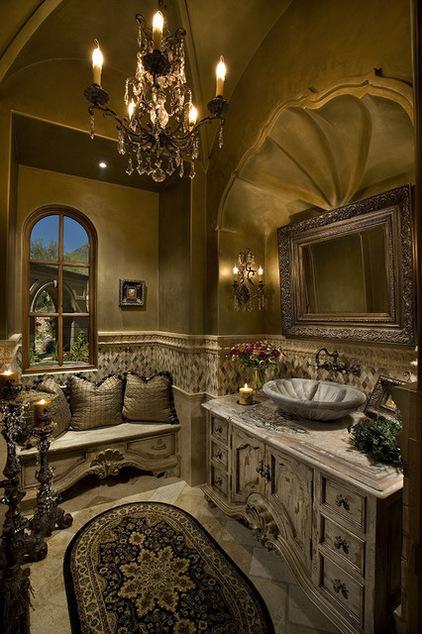 The Qualities of Tuscan Designed Bathrooms
Tuscan bathrooms are rich in warm colors, metal accents, mosaic tiles, and solid wood furniture. You'll see plenty of terracotta tiles and wood floors dressed with antique rugs. Walls are often textured with Venetian plaster and/or bespoke murals. Tuscan is a laid back luxury style of times of the past.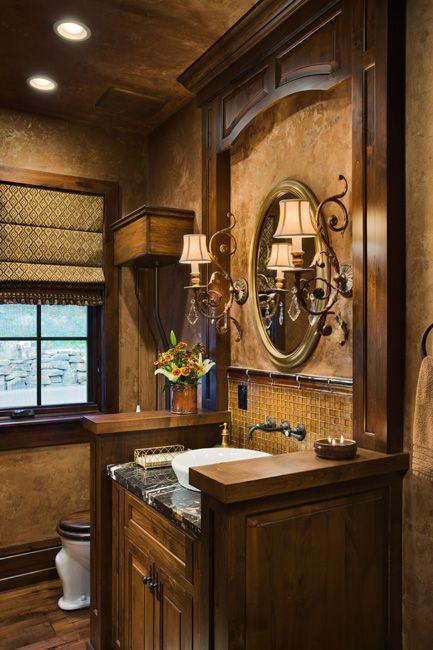 Images via Pinterest
The Qualities of Mediterranean Bathrooms
Mediterranean bathrooms share many of the same qualities as Tuscan bathrooms but they are a bit different. For one, Spanish and Greek influences are much more evident in Mediterranean bathrooms. White painted walls and blue accents are a tell-tale sign of a Mediterranean bathroom and a staple in traditional Greek Design. Read more about Mediterranean Bathroom Design.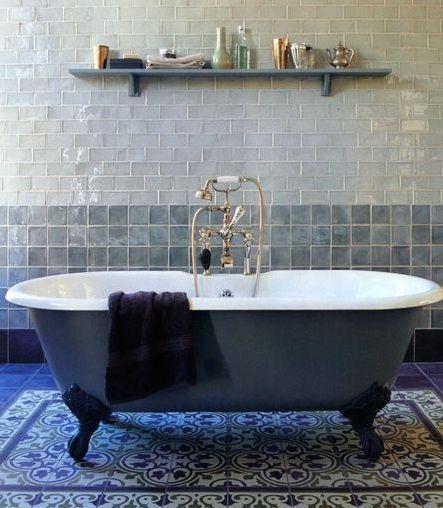 A Mediterranean Bathroom Claw foot Tub.
Design Features of a Tuscan Bathroom
Tuscan Bathroom Furnishings
Tuscan bathrooms always use cabinets made from natural solid woods. You can find the perfect bath vanity for your Tuscan inspired bathroom by indulging in these cherry wood vanities. You'll see a weathered and distressed look that fills the bathroom with an aged character.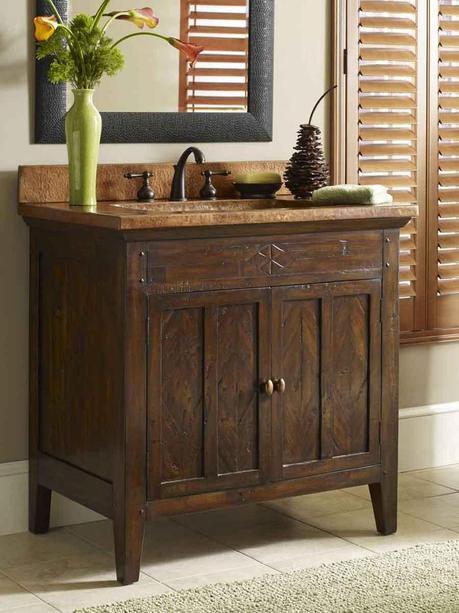 The Cobre Tuscan Style Single Bath Vanity. $2,030.00 with free shipping.
Color Palette
One of the most recognizable features of Tuscan bathrooms are the warm color palettes. Burnt terracotta, oranges, yellows, ochre, reds, and olive green hues are a staple in Tuscan bath design. These colors are unpretentious and can be used in a monochromatic color scheme or incorporated to include a range of hues.
Tuscan Architecture
Tuscany, Italy is filled with country farmhouses and over 120 nature reserves. Because of this, you'll often see Tuscan bathrooms stick to this shabby chic and country living sense of style. Rough plaster walls and wood beam ceilings emphasize the aged look and architectural beauty of these elegant spaces.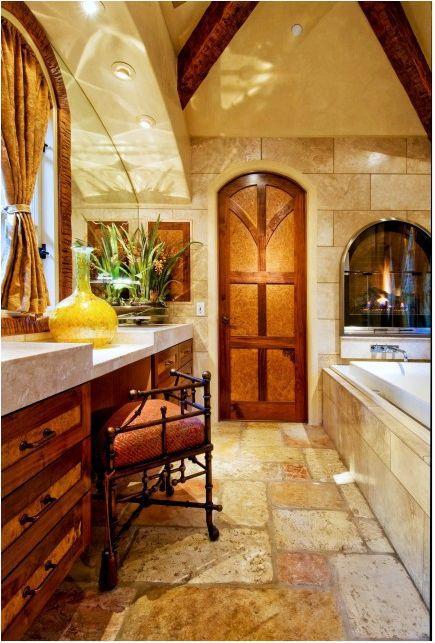 Here you can see wood beam ceiling and a natural wood door. A large window allows natural light to flow into the room.
Accents
Tuscan bathroom fixtures are often made from traditional metals such as bronze and copper accessories that are finished with a distressed oil-rubbed appearance. The Toria Faucet is a perfect example of an oil-rubbed faucet. It's not exactly a matte or flat finish but it does appear as though it has been lightly polished. Wrought iron accessories like candle sconces and lighting fixtures reinforce the rustic theme in Tuscan bathrooms. Painted ceramics and pottery are also very common.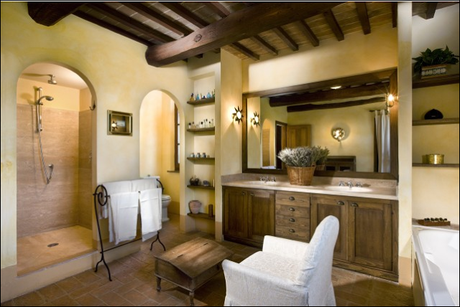 Flooring
Tuscan bathrooms are very dramatic and invoking of strong emotions. Natural stone flooring with mosaic inlays add an abstract look. Worn natural wood floors are another common way to add natural brownish hues that complement weathered furnishings and wrought iron accents. Antique area rugs are added as a finishing touch.
Countertops and Sinks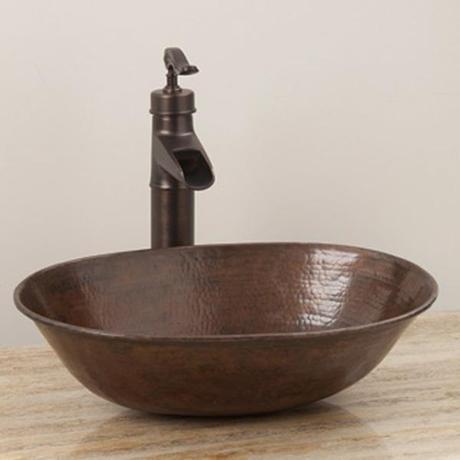 Stafford Vessel Faucet – Weathered Copper finish. $490.00 from www.TradewindsImports.com
When it comes to countertops and sinks, Tuscan bathrooms hold true to the underlying motif of natural materials. Stones like granite and travertine have a deep earth tone. Counters and sinks often feature a matte finish that departs from the glossy appeal of modern and contemporary styling.  Learn about the difference between modern and contemporary design. Mosaic tiles are often incorporated to weave the abstract theme from the floors to the cabinets. This Mediterranean Glass Vessel Sink captures the seascape feel and is formed in the beautiful shape of a seashell.
Tuscan Lighting
Natural lighting is a must in Tuscan bathrooms. Task lighting can be used to illuminate the grooming area surrounding the vanity while decorative sconces are hung to underline the old-world fashion. You can browse some of these lighting fixtures to get an idea.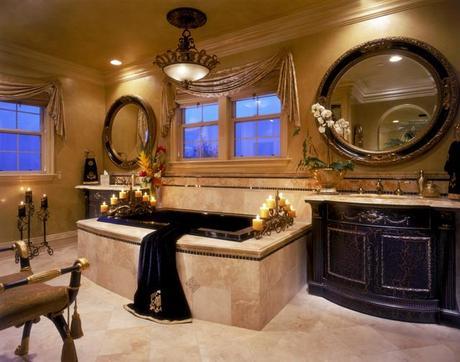 An inviting Mediterranean Bathroom layout made for busy couples. Read more about His and Hers Bathrooms.
Additional Resources:
Mediterranean Bathroom Design
European Style Bathroom Decor
Country Bathroom Vanities Infuse Your Bathroom with Warm Rustic Style
About the Author
Cheryl Khan is a contributing author to the Tradewinds Imports Blog. Designer by trade and writer by nature, she enjoys keeping up to date with the latest trends, designs, products, and color palettes of the year.