I harvested again 6 home-grown turnips & used them to make this lovely soup. Just check it out for yourself: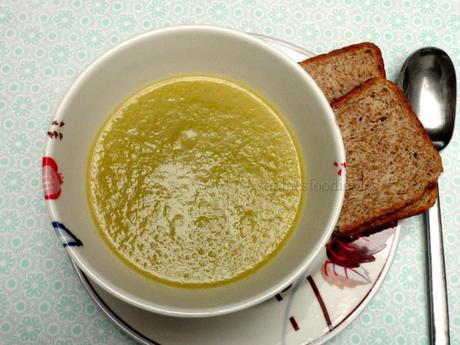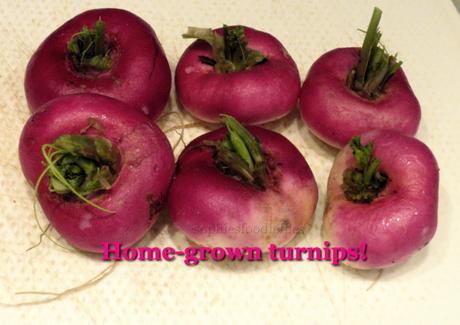 I used the green & white part of the leek & that is why, my soup is green instead of white. I didn't want to use vegan cream in here & that is why! First, you can taste the sharpness of our home-grown turnips & then you can taste the leek in this lovely soup & that is what you want. Maybe, if you use store-bought turnips, you must use a bit more because home-grown has that sharp pungent flavor or you must add some wild leeks, but not too much!
Recipe: For 3-4 medium bowls of soup
Ingredients:
6 medium home-grown turnips, (1 cup + 1/2 cup) cleaned, peeled & cut up into bite-sized chunks(pushed into the cups when peeled, cleaned & cut up)
1 medium leek, washed, cleaned, pad dry, the green & white part used, cut up into rings
1 small wild leek (only the white parts used here)
2 fact cloves of garlic, peeled & chopped
1 liter of vegan gluten-free hot stock
15 grins of black pepper
5 grins of ground pink salt
a fruity extra virgin olive oil
Method:
Take a fitted soup cooking pot & add some drizzles of that fruity evoo. Heat up on medium heat. When hot, add chopped garlic, wild leek & leek rings. Stir often & fry for about 8 minutes. Now, add chopped turnips & season with back pepper & some pink salt, but not too much, stirring often. Fry for about 5 minutes more & then, add the hot stock. Turn the heat up & boil your soup until your turnips are tender. This took me about 10-15 minutes. Taste. My turnips pieces were cooked through & I added about 5 grins of black pepper.
Mix your soup with an immersion blender & ladle your soup into lovely soup bowls. Enjoy just like that or with some good bread on the side.

Eat with a big smile on your face!

MMM,…Stay Tuned! If you liked this post & want more of them, join 1,602 email followers to get my new cool email newsletters! Subscribe by email! It is free!
Follow Blog via Email
Enter your email address to follow this blog and receive notifications of new posts by email.
Sophies Foodie Files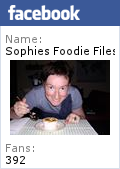 Promote your Page too
Tagged: Dairy - Free, Egg - Free, Gardening, Gluten - Free, Soup, Vegan, Vegetarian