Last weekend I headed up to Salem, MA to try Turner's Seafood, a family owned restaurant that's been around for generations. The original Turner's is in Melrose, and the newest location in Salem opened up about two years ago. The beautiful Lyceum Hall location in a town rich in history and culture is a perfect fit for the restaurant, which serves authentic New England style cuisine.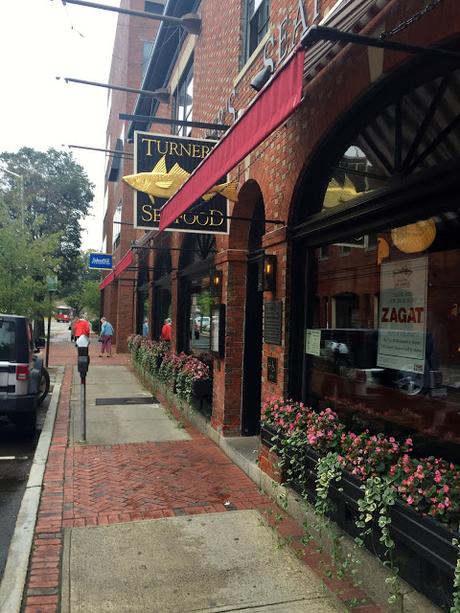 We started in the bar with a Pamplemousse, a delicious cocktail made with vodka, St. Germain, grapefruit and lemon. It was light and refreshing, and the citrus was perfect with the seafood.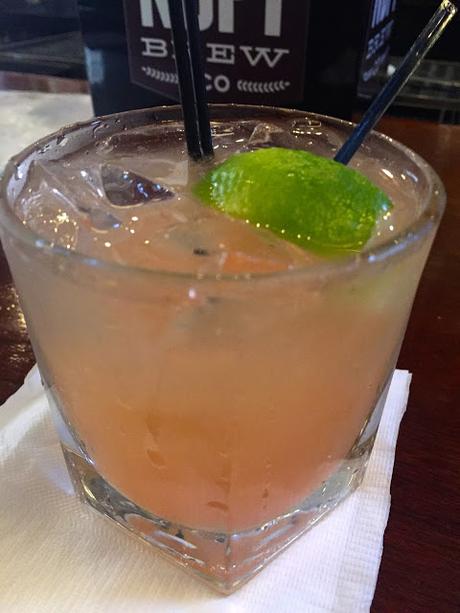 Next we headed over to the oyster bar where we enjoyed the day's offerings and got to hear from Owner Jim Turner, Chef Yale Woodson, Ryan Kribb the winner of the Boston Seafood Festival's Oyster Shucking contest in both 2014 and 2015. Turner's typically offers three types of oysters at a time, so they can feature those that are the freshest. We came in during their Oyster Festival and were able to try some Kumamotos, Pemaquids, and Wellfleets, which were all excellent.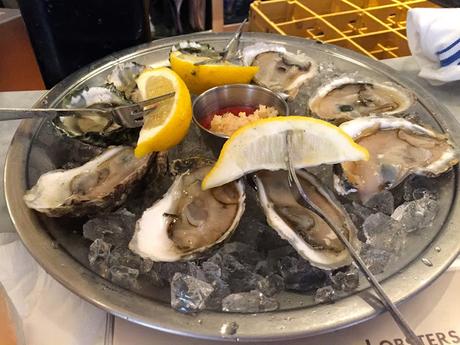 Next were several apps including some more Pemaquids, this time broiled with fennel butter. I can't say I liked on preparation better than the other, but I enjoyed the contrasting styles and being able to try them two ways. Not pictured were some GIANT Mexican brown shrimp served cocktail style. Check them out on Debbie's blog.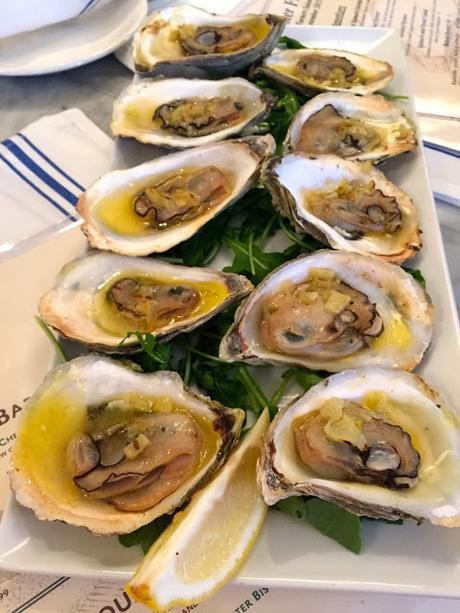 The crab cakes were served Maryland style but made with Jonah crab to give them more of a New England feel. These definitely met my criteria for a great crab cake - tons of crab, with just a little bit of breading.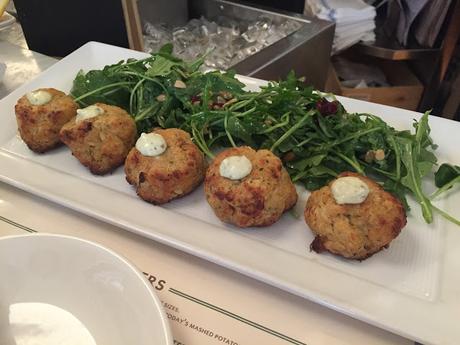 I loved the creative Monkfish preparation, served over creamy polenta and topped with a puttanesca sauce. This was rich and hearty, and I could easily have eaten this as an entrée.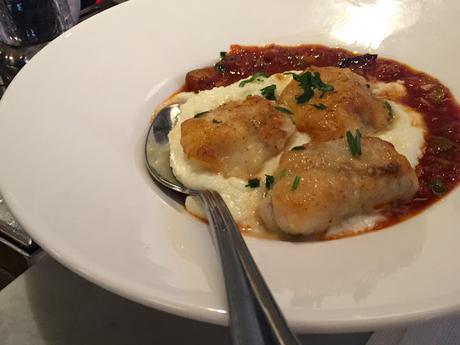 The buffalo scallops were a surprise hit, fried and served buffalo style with a side of blue cheese.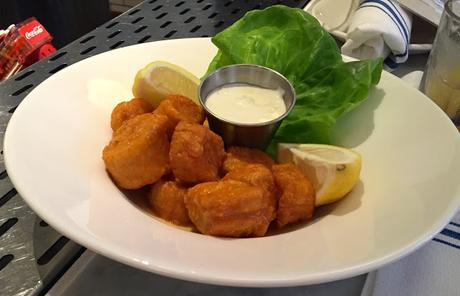 These special tuna sashimi buns were one of my favorite, and made deciding on a my entrée a tiny bit easier because I had been considering the tuna sashimi.



   However a couple bloggers did end up going with this dish, and it looked amazing - tuna sashimi with sesame seed crust, soy sauce, wasabi, pickled ginger, cold Asian noodle salad and
peanuts.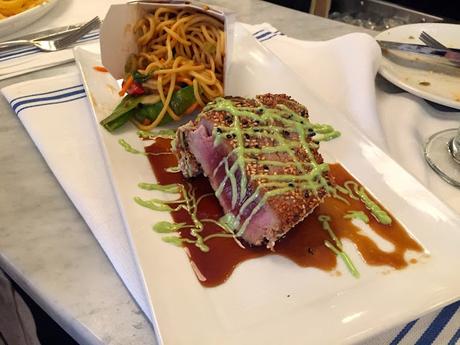 One of Chef's recommendations was the Newfoundland Finnan Haddie - house smoked North Atlantic haddock baked in pearl onion au gratin sauce. I'd never had smoked haddock before, so I had to try a bite of Fiona's.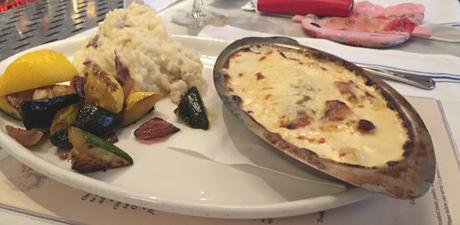 I ordered the lobster pie as my entrée, which met the same criteria as the crab cakes - tons of meat with just a little breading / filler. I love eating lobster this way because you don't have to deal with the mess of cracking it yourself, but get to enjoy delicious, warm, buttery lobster.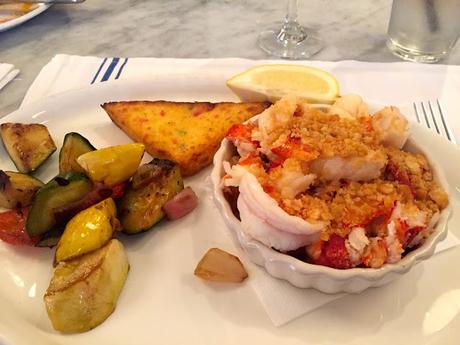 We also had the opportunity to try dessert, and I went with the Indian Pudding which is a traditional New England dish very similar to bread pudding. This was topped with vanilla ice cream and caramel, both perfect pairings.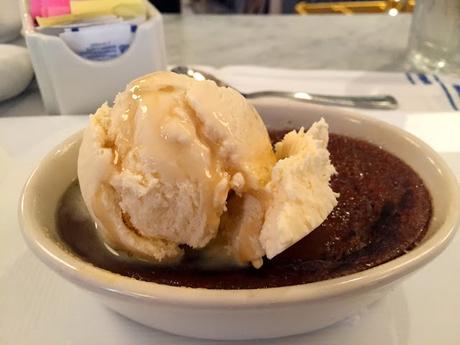 Others in our group enjoyed the strawberry shortcake and apple crisp.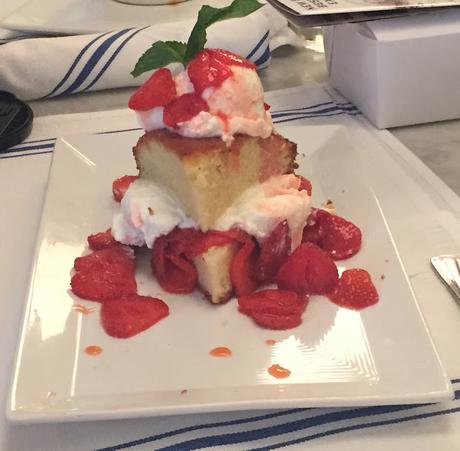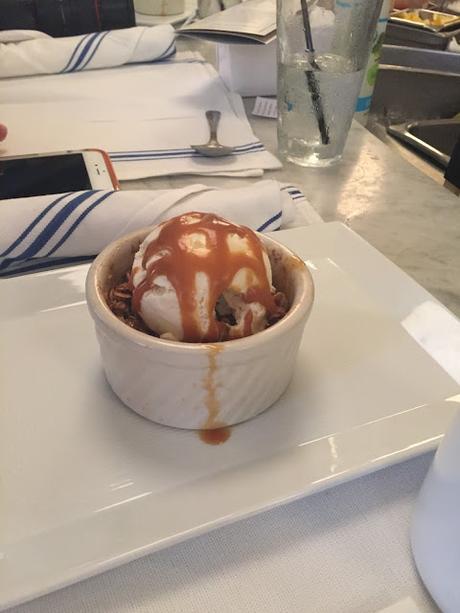 We also got to check out the private event space upstairs, which was absolutely beautiful - I could even imagine hosting a small wedding here!