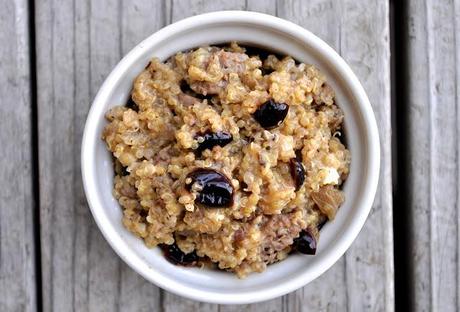 Oh lawdy.
Quinoa is a power grain. It's packed with protein and is extremely versatile.
First off, quinoa is pronounced:
keen-wahh
-not-
kin-no-uhh
It's ok, I walked around saying it wrong until I actually tried it a few years back.
Well, I've been making some "clean" recipes.
I will be eating this at least twice a month now. It was SO good.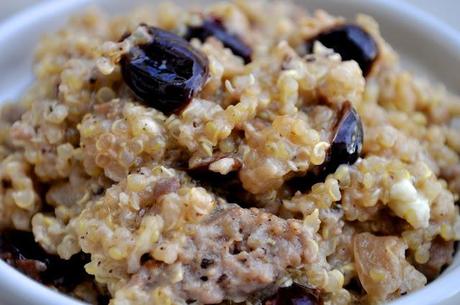 Because we aren't "clean" fanatics, I added some feta cheese to it, but it was delicious before mixing it in, so you can totally leave it out.
Turkey Sausage & Cranberry Quinoa
serves 2-3
Ingredients
16oz turkey sausage
1 cup dry quinoa
2 cups unsweetened almond milk
1/2 tsp pepper
1/4 tsp salt

(can leave out & salt to taste if you prefer)
1/4 tsp cinnamon
1 cup chopped onions

(I used frozen)
1 clove garlic, minced
2 tbsp apple cider vinegar
1 tbsp olive oil
1/2 cup juice sweetened, dried cranberries
2 tsp ground sage
1/2 cup feta cheese

(optional)
Instructions
1// Rinse quinoa. In a small mesh strainer or large cup, stir quinoa vigorously for 2 minutes while running under water or immersed in water. Drain. This is VERY important and will get rid of the bitter or "soapy" taste.
2// Place drained quinoa in a saucepan over high heat. Drizzle with a little olive oil and stir constantly to get the majority of water to burn off - about 2-3 minutes.
3// Pour unsweetened almond milk, pepper, salt, & cinnamon in with the quinoa and stir. I used vanilla unsweetened and it was delicious. Bring to a rolling boil.
4// Boil quinoa for 5 minutes uncovered. Then cover and turn the heat down to low. Cook for 20 minutes.
5// In the meantime, brown turkey sausage in a skillet over medium high heat. Once browned, pour into a bowl and set aside. In the sausage drippings, sauté the onions and garlic until the onions are translucent.
6// Turn the heat down to medium low. Add in the sausage, apple cider vinegar, olive oil, cranberries and sage. Keep warm until quinoa is done.
7// Once 20 minutes has passed, keep quinoa covered and remove from heat. Let sit for 5 minutes covered and then fluff with a fork.
8// Stir in the sausage mixture and add feta cheese if desired.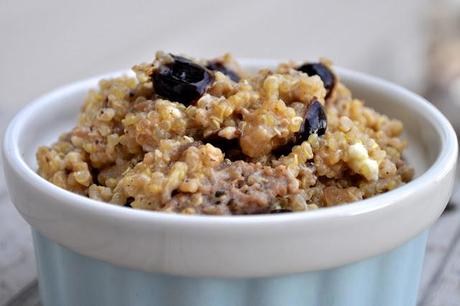 This turned out to be so good and the leftovers were just as fabulous. The almond milk gives the quinoa a creamier texture, so this tastes more like a risotto.
Enjoy!
"Change can change your life. You'll never know unless you embrace it."
Check out more from my biffle's life: