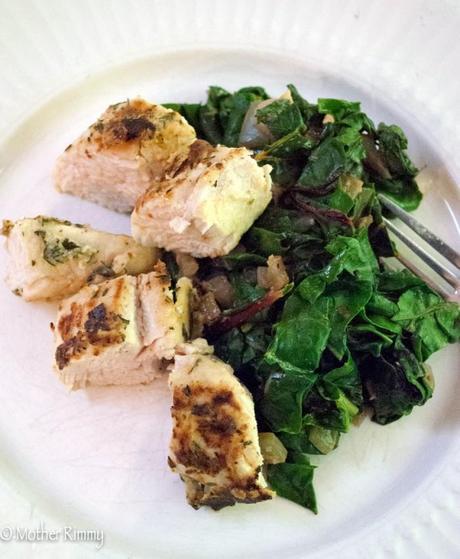 I'll bet you're thinking to yourself, "Why is she posting a turkey recipe in June?"
Because turkey breast tenderloins were on sale, and chard is in season. It's as simple as that.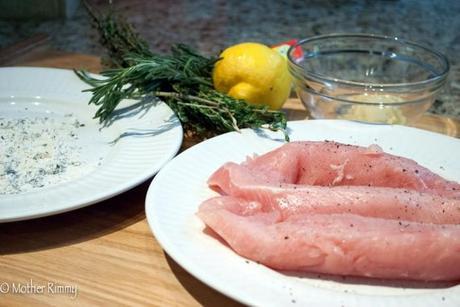 It was a breeze to keep this meal low calorie since turkey breast is a lean source of protein, and chard has virtually no calories to speak of.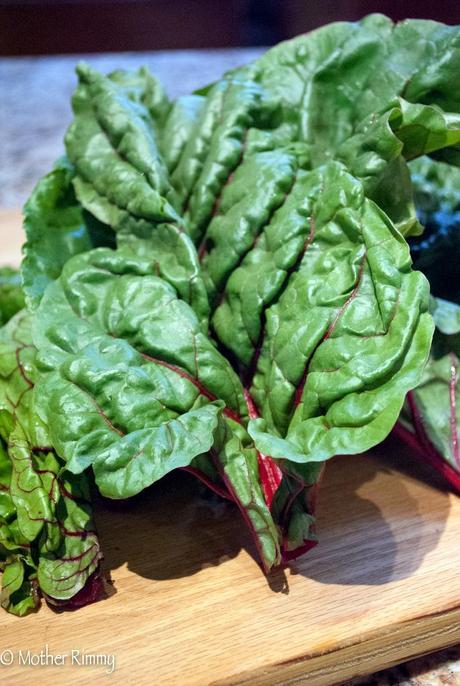 Did you know that according to WebMD (I'm a fan of this site for quick health advice) chard provides more than 300 percent of your vitamin K needs for the day?
This sounds like a good reason to eat it while it's fresh from the garden to me.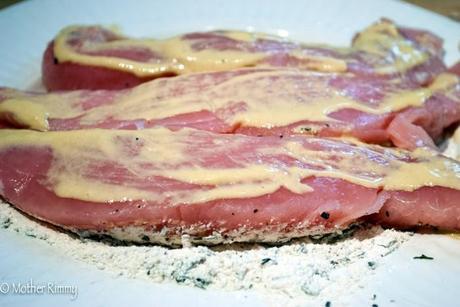 And this chard makes a perfect side dish for my cost friendly turkey breast tenderloins. We spread them with a mixture of spicy Dijon mustard and lemon, then dredged them in an herby flour mixture before they were roasted in the oven.
Did I tell you that I'm training to run a 5K at our local winery for a children's charity with daughter Rimmy? I decided on my 54th birthday in May that I needed a new fitness goal. I'm not a runner, so this is a stretch for me.
My turkey and chard recipe came in under 300 calories, making it a good training meal with lots of lean protein and veggies. Now I just need to get this running thing down. Wish me luck!
~Kristi
Print

Turkey Breast Tenderloin with Garlicky Chard
Serving Size: 2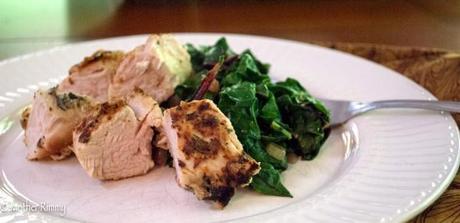 Shake It Up! This recipe works equally well for chicken breasts or pork tenderloin. Kale or spinach could easily replace the chard.
Ingredients
12 ounces turkey tenderloin
3 tablespoons flour
1 tablespoon fresh thyme, minced
1 tablespoon rosemary, minced
1 tablespoon Dijon Mustard
1 tablespoon lemon juice
½ tablespoon water
½ medium onion, finely chopped
2 large garlic, finely minced
8 cups chard, chopped
½ cup low sodium chicken broth
1 tablespoon lemon juice
Instructions
Preheat the oven to 350 degrees. Take a large oven proof skillet and spray generously with cooking spray.
Combine flour, thyme and rosemary on a plate.
Combine mustard, 1 tablespoon lemon juice and water in a bowl.
Brush one side of tenderloins with mustard mixture, then press into the flour mixture. Turn the tenderloins over, then brush with remaining mustard. Press that side into the flour mixture.
Preheat the skillet over medium high and add tenderloins. Sear on one side for two to three minutes, then spray the tops with cooking spray and flip. Sear the second side for another two to three minutes, then place the pan in the oven.
Roast for 15 to 20 minutes until turkey is no longer pink at the thickest part. Do not over cook, or turkey will be dry. Remove just before you thinks it's done and cover with foil.
Place pan with turkey drippings onto the stove over a burner set to medium high.
Add chicken broth, garlic and onions. Cook for 3 - 5 minutes to soften onions, then add the chard. Cook for another 3 - 5 minutes to wilt the chard, then toss with remaining lemon juice and season with salt and pepper.
Serve chard with turkey tenderloins.
Notes
Food energy: 292kcal Saturated fatty acids: 0.60g Monounsaturated fatty acids: 0.53g Polyunsaturated fatty acids: 0.61g Total fat: 1.74g Calories from fat: 15 Cholesterol: 105mg Carbohydrate, by difference: 21.21g Total dietary fiber: 4.28g Protein: 47.42g Total lipid (fat): 2.21g Water: 378.77g Ash: 5.24g Total sugars: 3.84g Calcium: 135mg Iron: 6.05mg Magnesium: 178mg Phosphorus: 463mg Potassium: 1218mg Sodium: 618mg
2.5http://motherrimmy.com/recipe-turkey-breast-tenderloin-with-garlicky-chard/Mother Rimmy�s Cooking Light Done Right by Kristin A. Rimkus is licensed under a Creative Commons Attribution-Noncommercial-No Derivative Works 3.0 United States License.
try { _402_Show(); } catch(e) {}