What is the best shower pan for tile?
There's no denying the fact that a shower pan is most suitable for small bathrooms. 
A shower pan is the best option for kids and people with disabilities due to limited ease of accessibility. 
It makes some space instead of a bathtub in your bathroom and more convenient to use for everyone. 
In this article, we'll reveal to you the best shower pans from the best brands to buy this year. 
Shower Pans: 7 Best Reviews
Take a look at the shower pan systems we have discovered in the review below:
DreamLine SlimLine DLT-1134480-22 Center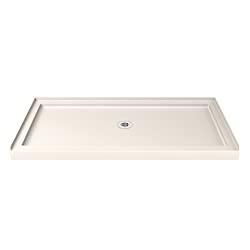 Shop Now at Amazon
Are you looking for a spacious and comfortable place to shower? This model can help you increase the space of your bathroom with the base.
It has an elegant and timeless design that makes it installable in any bathroom. The top is made of high-gloss acrylic that is resistant, doesn't slip, and of good quality. This is reinforced by fiberglass and the use of PVC rings give it a structural support foundation.
Available in an elegant biscuit, white, or black color, it is aesthetically attractive and functional, in addition to the SlipGrip giving it non-slip properties. 
Its dimensions are 34 x 48 x 2.75 inches. So it can be installed on or flush with the floor. The product is certified by cUPC but requires a professional installation. 
DreamLine SlimLine DLT-1134600-22 Shower Base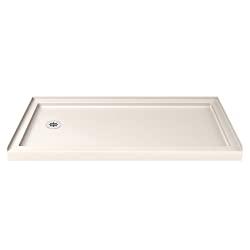 Shop Now at Amazon
The Pennsylvanian shower product manufacturing brand, DreamLine, is well-known for its high-quality shower doors, enclosures, tubs, and shower bases. Its products are popular with homeowners, so the majority of our choices of the best shower pans come from this brand. 
This shower tray has been manufactured with a rectangular shape to suit most showers. Being universal in style, this DreamLine SlimLine product measures 34 inches in depth, 60 inches in width, and 2.8 inches in height. With a single threshold shower base designed in a white, black, or biscuit color coating.  
Its design is elegant and modern, so it fits as a sophisticated piece to the decoration of the bathroom. The plate is made of acrylic and reinforcement of fiberglass. 
Also, for greater user safety during the shower, it has a non-slip surface that can be suitable for foot massages. Unlike other models, this pan does not include the drain valve in its accessories. 
DreamLine SlimLine DLT-1036360-22 Corner Drain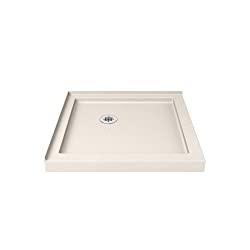 Shop Now at Amazon
This model is a shower base with a corner drain design. It is made of high-gloss non-porous acrylic with a shower base texture. There is the SlipGrip floor surface design which makes it slip-resistant for safety in the shower enclosure. 
The finishes of the base denote quality in elegant white, biscuit, or black, with delicate details of the latest generation. This model has a value for the money as it offers quality properties that stand out despite its competitive price.
Thanks to a strong and durable acrylic shower tray, which has been built for quick installation. Due to dimensions, it adapts to large shower spaces. 
It is a square shower pan and measurements are 36 inches long, 36 inches (width) by 2.8 inches (height). This makes it possible to install  almost flush with the floor. 
DreamLine SlimLine DLT-2036360-22 Neo-Angle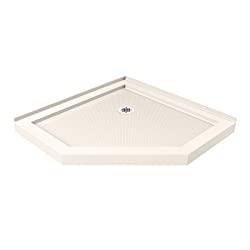 Shop Now at Amazon
This DreamLine SlimLine is similar to other shower bases from the same manufacturer in this review in terms of material and quality. However, it has a neo-angle design which makes it suitable for a corner shower. You also have a choice of color between white, black, and biscuit. 
Available in an elegant coating, regardless of the color, this is a shower tray suitable for placing in bathroom rooms with minimalist or contemporary style. 
It is made of three types of materials: durable acrylic, fiberglass reinforcement, and ABS. It has a mineral-filled finish, which gives it texture. For this reason, it has non-slip and extra-flat properties of 2.8 inches in height, thus, suitable for a quality installation.
Its full dimensions are 36 inches depth, 36 inches width, and 2.8 inches in height. The neo-angle shower pan has a weight of about 33 pounds approximately.
It has a SlipGrip textured surface which makes it resistant to slips. It is certified by cUPC and is in compliance with the standards in the US and Canada. 
Tile Redi USA B3060C-SCSQBVZ Shower Pan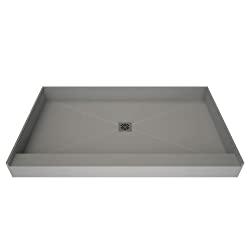 Shop Now at Amazon
Tile Redi USA is another US-based manufacturer that has added to the market a large number of shower tray models that have become some of the best on the market. Such is the case with the Tile Redi USA Shower Pan, which has high-end and quality attributes. It is a one-piece shower base that is easy to install. 
It is made with highly-resistant polyurethane resin. Its manufacturing materials have been treated to show off and have textured finishes like a slate stone. 
Unlike the DreamLine SlimLine products, it includes a grate and drain valve. It has a design with high-end and elegant finishes, which is available in various colors to select the one that best suits your needs. You have a color option between brushed nickel, matte black, oil-rubbed bronze, polished chrome, and tileable grate. 
In the single kit is included a two-inch PVC drain as well as a square drain plate. All Tile Redi shower pans are listed by UL. It comes with three years of limited warranty. 
DreamLine SlimLine DLT-1032320-22 Corner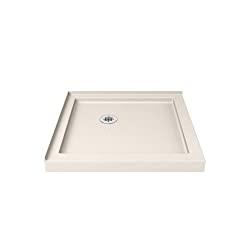 Shop Now at Amazon
The last DreamLine shower base in the review, but it's definitely not the least in terms of the quality aspect. It has a corner drain fitting and is available in a color option of classic white, biscuit, or black. 
It has a rectangular shape and size which fit almost all shower enclosures. In dimensions, it measures 34 inches in depth, 48 inches in width, and 2.8 inches in height.
It has a durable construction which comprises acrylic, fiberglass, and ABS materials. Also, it is slip-resistant, thanks to the SlipGrip surface. The acrylic material is high-gloss, non-porous, and of premium quality. This means it is easy to maintain and gives it lasting beauty. 
Schluter Kerdi 36 x 48-inch Center Shower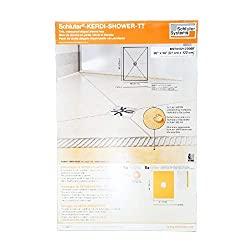 Shop Now at Amazon
The Schluter Kerdi shower tray is a rectangular type of shower pan designed for the placement of a center shower drain. The orange shower tray is a rectangular product that measures 48 inches of length and 36 inches in breadth. The edges have a thickness of one inch. 
The product is cuttable with a table saw for the right fitting. It is built with the Kerdi water-proofing material and can be easily used with Schluter drains, which are sold separately. 
Not only very comfortable when showering, it is also very comfortable when entering the shower. Thanks to small thickness around the edges, which makes getting in and out of the shower a breeze. 
Forget the complexity of having to get into a bathtub. We are talking about a borderless design to avoid possible tripping. This helps prevent slipping.
Conclusion
Who needs a bathtub when a shower pan installed with a shower door can offer you more freedom. 
Suitable for people with mobility challenges and kids, the shower pans are made for minimalists. 
We hope you've discovered your choice among the best shower pan systems reviewed in the article.