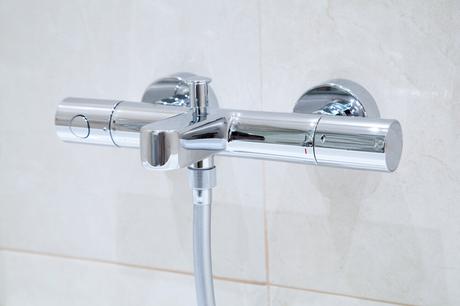 I think you will agree that there's not any feeling more satisfying than having a nice shower after a hard day's work. 
I'm talking about showers that are not too cold or too hot, but just right. Only a thermostatic shower can guarantee such comfort.
In this review, I'll help you decide which thermostatic shower is best for you and your comfort. 
Best Thermostatic Showers
Let's look at the top 6 thermostatic showers and their key features.
1. Thermostat Shower System by Solepearl (showerhead & handheld shower)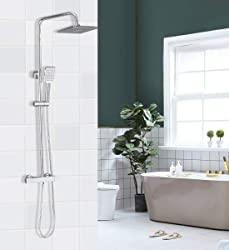 Shop Now at Amazon
Here's a thermostat shower system made of solid brass.
This shower system works at a balanced temperature range of 20 to 50 degrees. It prioritizes safety with an anti-scalding safe lock that stops the water from getting hotter than 38 degrees.
Since the body-work is made of brass, you can expect this product to withstand the test of time. Why? Simply because the chrome surface won't allow corrosion or rust. 
Also, the Solepearl Thermostat Shower System has a high level of resistance to high pressures and temperatures. 
The bar has a rotational structure that can be adjusted from 910mm to 1320mm. This makes it a universal fit for people of different heights.
Moreover, you get to enjoy your shower baths because of its two-way shower system (overhead and handheld).
All the necessary hardware you need to make a successful installation for your shower system is provided when you make a purchase. 
What's more, it comes with a warranty that lasts a decade.
2. Thermostat Shower System by Solepearl (wall-mounted circular chrome)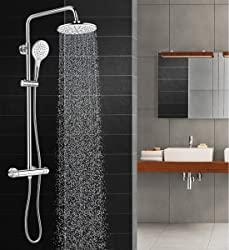 Shop Now at Amazon
Here's another impressive shower system by Solepearl. This one is round-shaped and has a wall-mount installation method. 
Your safety while having a shower is prioritized with an Anti-scalding safe lock that regulates the hot water supply at 38 degrees. So, no cold shocks or skin burns whenever the water supply fails.
The 8-inch showerhead featuring up to 72 vents will give you a relaxing and thorough shower experience because of its wide coverage.
Durability doesn't seem to be an issue here because of the product's brass and chrome surface. It can withstand the constant touch of water without rusting.
For quality assurance purposes the shower system comes with a limited warranty that lasts for a decade. That way, you know you can't go wrong if you choose to purchase this item.
All in all, this shower system will blend very well with your bathroom because of its modern style, giving it an attractive appeal.
3. Concealed Thermostatic Shower by Tailored-Plumb (overhead shower and mixer valve)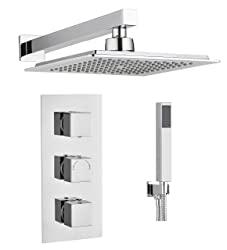 Shop Now at Amazon
What we have here is a square-shaped thermostatic shower with a body made of brass and a finish of chrome. 
This shower has 3 functional handles that control the flow of water and temperature. Two of them are used to regulate the flow.
Since its body is made of brass it's quite durable. You can expect to use it for many years. The cover plate is made of chrome stainless steel and has no weak weld joints.
Moreover, the system has anti-scalding protection that will keep users from harm should the hot or cold water supply fail.
For optimum satisfaction and performance, you should use a 1 Bar pressure system. This can be used for combi boilers and low-pressure gravity plumbing systems. 
4. Thermostatic Mixer Shower System by Elbe (with 3 Modes of Hand Shower)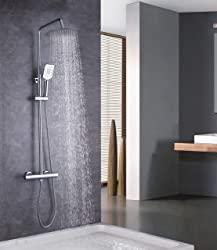 Shop Now at Amazon
Here's a truly fascinating system with a stainless steel shower head and a thermostat made of brass.
This system has a unique 25cm round shower head that evenly distributes water through well-arranged vents. This is necessary for a more comfortable feeling. 
Moreover, it's designed with a simple structure that makes installation easy. 
The shower bar is flexible and can be adjusted (79-119cm) to fit persons of any height. 
Since the showerhead and thermostat are constructed with stainless steel and brass respectively, they can withstand regular contact with water and the test of time. 
You also have the function switch on the thermostat that allows you to switch between the head or handheld shower at your disposal.
And as far as maintenance is concerned, this product has it easy because of its composition. Simple water and towel mixed with detergent will be enough to give it back its sparkling look.
Finally, I found the customer service to be top-notch. They're always ready to help when the need arises.
5. Shower Set Thermostatic 40°C Mixer Shower by Homelody (8-inch overhead rain shower & 3-function handheld shower)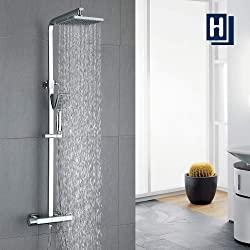 Shop Now at Amazon
Here's a quality shower system that utilizes a modern rectangular design to run water temperature at 40 degrees. This temperature is suitable and safe for you to use. 
The safety Anti-scalding lock is also at 40 degrees, protecting you and your family against cold shocks and skin burns.
Perhaps it's most impressive feature is the hand shower with up to three functions. These functions consist of rain spray, massage spray, and a combination of both sprays.
To add to that, it has a shower rail made of stainless steel that can be adjusted from 818 to 1240mm. These features give comfort to persons of different heights.
Since the main body of the shower is made of brass, it is resistant to high temperatures, water, and high pressures. 
It also has a chrome surface finish that facilitates easy cleaning and resistance to rust and corrosion. 
For maximum performance, a 5 bar working pressure is required.
6. ZI SHXSMCT C Zing Cool Touch Bar Shower by Bristan (single-mode, standard connections)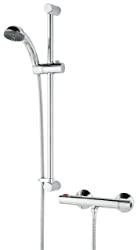 Shop Now at Amazon
Last but not least is this attractive shower system made of chrome from Bristan.
The Zing has a cool touch innovation that makes the shower valve safe to touch while in use. It has two distinct controls for temperature and flow control.
Also, the shower is suitable for low pressure plumbing systems (gravity fed) and high pressure ones (combi boiler).
It is also worth noting that when you purchase one, it comes in a big box that contains all the essential hardware you need to have a successful installation.
For quality assurance purposes and your peace of mind, there's a benefit of a 5-year warranty.
Moreover, there's award-winning customer service at your back and call if you have any complaints. 
How to Choose The Best Thermostatic Showers
Before you rush into the market only to come out with a substandard shower head, you need to know the properties that will help in differentiating the best from the rest of thermostatic shower heads. Pay attention to these crucial pieces of information in this section.
Energy Consumption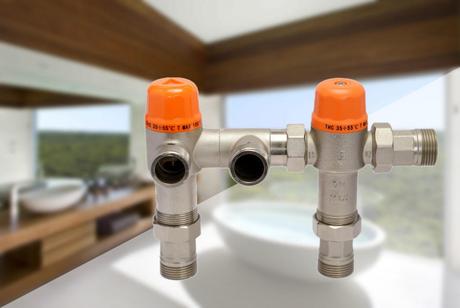 These shower systems are designed to use electric energy. The higher the kilowatt rating of the product, the more energy it consumes. You should, therefore, consider going for a shower that won't result into huge electricity bills for you. There are some models that are built with eco-settings to help minimize of energy costs.
Ease of Installation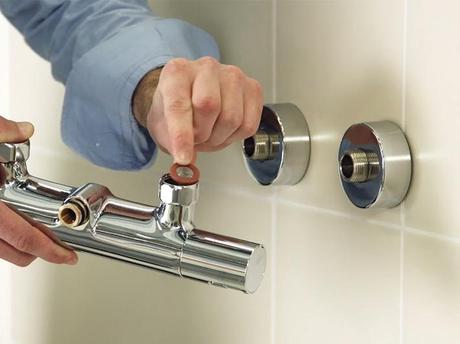 How easy is it to install the thermostatic shower head? Is there an installation manual that accompanies the product? Are the instructions detailed, clear and easy to understand? These are very important questions that you need to ask yourself before the purchase.
If you aren't skilled enough in this sector, you better go for a model that won't take much of your time to set up. Alternatively, you can hire the services of a professional plumber to get it done so that you don't end up messing up everything.
Pressure and Temperature Controls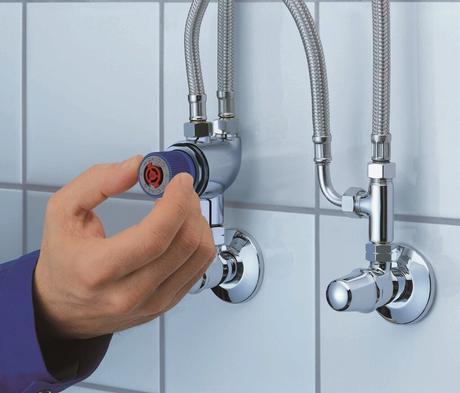 Do you want to go for a shower system that allows you to control both your water pressure and temperature settings? It is a really nice thing if you can be able to control these two parameters to levels that provide you with satisfaction. There are models that are designed in such a manner while others are pre-set and not adjustable.
The control knobs should be designed with sufficient grip for ease of adjustments even when taking a shower.
Price
These products are priced differently. Others are slightly expensive while others are cheaper. You need to go for a product that fits into your budget. However, the price shouldn't be considered in isolation as you might end up compromising on quality plus other things.
Design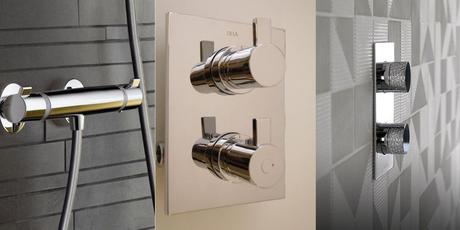 These shower systems are meant to serve the same purpose. However, they are built differently. There are those that come with both the handheld and overhead showers, others are round while some are square. Some are also plated for shiny finish.
These vary from one product to the next. All in all, go for something that fascinates you. Go for something that is beautifully done and at the same time likely to perform as per your expectations.
When deciding which thermostatic shower head to go for, it is important that you listen to what other people who have used the product before have to say. What are some of their experiences with the product?
Conclusion
Whatever experience you've had with your shower in the past, it's all about to change with the new knowledge you have acquired about thermostatic showers from this review.
In as much as we've shared with you top quality shower systems from different brands, the title of the best thermostatic shower rests on what fits your needs and budget.