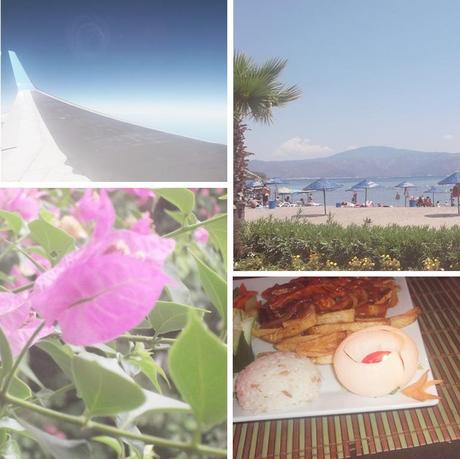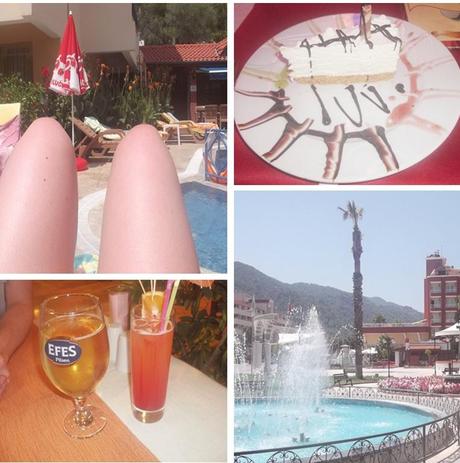 On the plane and finally on our way to Turkey, armed with a pack of cards and plenty of gabbing to keep us entertained · A quick snap of the beach in Icmeler although we didn't actually go there, we're pool people through and through · Messing around with my camera on the balcony and finding some pretty flowers to take pictures of, as you do.. · Our first meal in Icmeler and it was from one of our favourites, Captain Bullshit (yep that's its name), complete with a tea light in an onion · Relaxing by the pool and actually getting my tan on this year HOORAY! · A huge piece of cheesecake which was on the scrummy side, although it did get the better of me unfortunately · What holiday could be complete without beer and cocktails, with David having his beloved Efes and Sex on the Beach for me · ..and discovering that the town center has now been built up with lovely fountains and an open area for locals and tourists to sit and enjoy the view.
So we're back from our 10 days in Turkey and all I can say is that it really was an amazing holiday! After so much stress from uni, work and everything else that has happened over the past year, it was great to just get away and forget about everything for a little while. We headed back to the lovely town of Icmeler for what seems like my millionth visit, and with David loving it last year I was sure we would have a great time. There was plenty of sunshine with temperatures hitting around 45

°C most days, although we did experience another thunder storm and heavy rain one of the evenings (twice in two years, such luck eh). With the sunshine came plenty of sunbathing and floating in the pool, and there was always a great atmosphere due to lovely company around the apartments  so we really can't complain, although it made the days pass by a little bit too quick for our liking! As always the Turkish people were so friendly and seemed like they would do anything for you, the food was delicious and it was just great to completely relax again, before the hectic year of university ahead of us at least. For anyone who is dubious about visiting Turkey (don't worry, we were the same all those years ago), I couldn't recommend it enough, and Icmeler in particular. With great prices, amazing weather and lovely people surrounding you, it really is a fab place to make that little escape to!