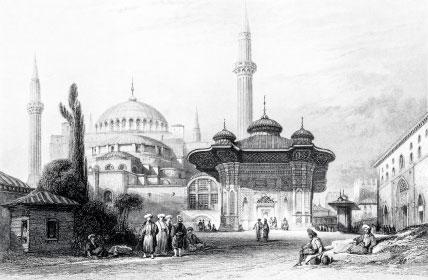 Photo courtesy of iStockphoto.
This blog article, which in English is titled "Learning to Write in Turkish," is a bit atypical for me. I am traveling to Istanbul, Turkey this week and I have been trying to learn as much Turkish as I can before I leave. I am up to Level 2/Unit 2 using Rosetta Stone, a remarkably helpful program that makes learning a new language fun. Inspired by this I had planned to write a simple blog article in Turkish, using what I had learned so far. After taking an hour to write the first couple of sentences, I decided to cheat a little and get some translation help. I discovered an app for my Droid called Talking Translator/Dictionary , from GF Media Apps, an excellent supplement which has made learning to write in Turkish go much faster. Hopefully I did not butcher things too much.
---
Türkçe
Merhaba. Benim adım Jared ve ben Amerika'liyim. Ben İngilizce konuşmak, ama bu hafta İstanbul'a ziyaret edicek çünkü Türk öğreniyorum.
Bugün benim bavul ambalaj başladı. Ben altı gömlek, pantolon iki çift ve bir kemer getirerek, ama benim takım elbise ve kravat duyuyorum. Hala diş fırçası ve diş macunu paketi gerekiyor ve benim cep telefonu şarj cihazı unutmak istemiyorum.
Çarşamba günü Ben Atatürk Havalimanı'nda gelmesi ve arkadaşım Sinan karşılamak için umuyoruz. Ben otele kontol sonra İstanbul'un bazı bölgelerinde ziyaret ve bazı deliscious Osmanlı mutfağı için bir lonkanta gidecek.
Perşembe ve Cuma günü ben iş tahmin için bir eğitim atölyesi, mesleki gelişim ve ağ için büyük bir fırsat katılacak.
Ben ailesi Cuma akşamı ile Sinan evinde ile akşam yemeği için davet edildi. Sonra Cumartesi günü o Kapalı Çarşı ve Topkapı Sarayı ziyaret ile, İstanbul çevresindeki biraz daha bana gösterecektir.
Ben eşim Mary için Türkiyeden bir hediye ile birlikte, Pazar günü eve dönmek.
---
English
Hello. My name is Jared and I am American. I speak English, but I am learning Turkish because I will be visiting Istanbul this week.
I started packing today. I am bringing six shirts, two pairs of pants, two jackets, six pairs of socks, one belt, but no ties. I still need to pack a toothbrush and toothpaste, and I don't want to forget my cell phone charger.
On Wednesday I arrive at Ataturk Airport and hope to meet my friend Sinan. After I check into my hotel we will visit some sites around Istanbul and go to a restaurant for some delicious Ottoman cuisine.
On Thursday and Friday I will be attending a training workshop for business forecasting, a great opportunity for professional development and networking.
I have been invited to have dinner at Sinan's home with his family Friday evening. Then on Saturday he will show me around Istanbul some more, with visits to the Grand Bazaar and Topkapi Palace.
I return home on Sunday, along with a gift from Turkey for my wife Mary.
Jared Roy Endicott

 Subscribe in a reader
---