We've been eating out very enjoyably in the United States so far, and Santa Fe has probably provided the best USA tummy time experiences so far. That's not to forget that the dinner last Friday night in the

Artichoke Cafe in Albuquerque

was a good first taste of New Mexico, but here in Santa Fe each of the eateries we have visited has been a good mix of value, interest and fun.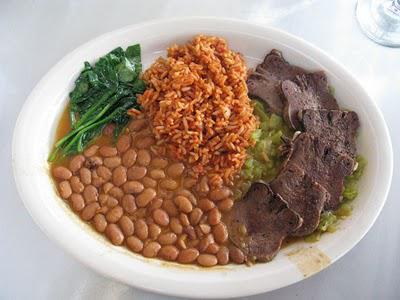 Pam liked the look of this Leguna con Chile Verde that she took this photo and plans to do a painting of it later on. The 'Leguna' part is very slow-cooked, ultra-tender beef tongue, while the green stuff to either side of it is green chilli salsa. The spicy salsa rice, pinto beans and tender sauteed spinach rounded it out nicely. This was served at Tia's Cocina. Here's

the rest of the menu

there. We washed it all down with a good Chilean Sauvignon Blanc. The wine lists so far have been very international (USA, Oz, NZ, Chile, Argentina, South Africa, France, Italy all well represented) and we haven't had a problem finding the type of wine we like anywhere.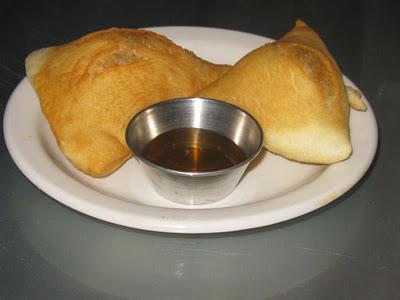 It was our good fortune that they brought out the wrong dessert, so we ate them anyway. These are Sopapillas, light and hollow puffy dough balls which you dunk into the bowl of honey in the centre. They are also served filled with cherries, when in season but ours were fresh and light, tasty simplicity itself. Think featherweight doughnuts.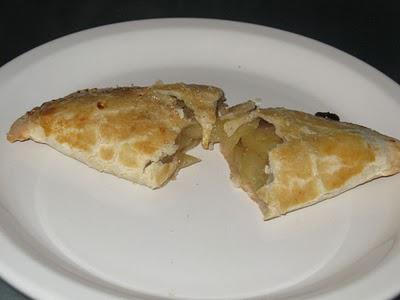 What we really intended to eat, and finally did devour, was this Pastelito, an apple turnover flavoured with cinnamon and sugar. As the evening went on and our outdoor dining area's light grew dim, our food photography descended in quality somewhat as well, relying on a flash to get a shot. It tasted a lot better than it looks here, believe me!
Pammy had something nice and interesting (if you can get past the 'tongue' thing, that is), so what did I have? Well, it didn't look brilliantly photogenic, so we didn't bother with taking a photo of it. I had the Plato de Chimayo, which is basically a mixed plate of one taco, one enchilada and a tamale, along with the same spicy beans and spicy rice Pammy had (everyone gets the beans and rice, it seems).
My interest in ordering the mixed plate which included the pork tamale with red chilli is that earlier in the day I enjoyed my first tamale (a vegetarian one with green chilli salsa from a street stall). I did take some photos of my lunchtime, inaugural tamale, so here goes.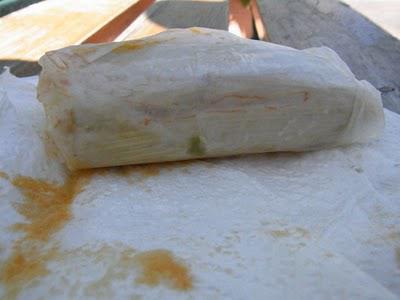 What you get for your $2 is a little package wrapped in paper.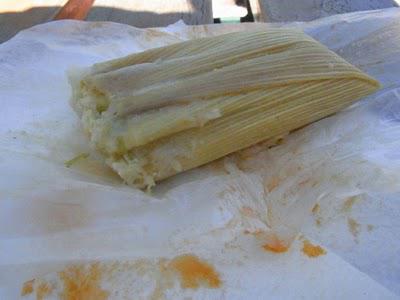 Unwrap the paper and it reveals... another package, this time wrapped in a corn husk.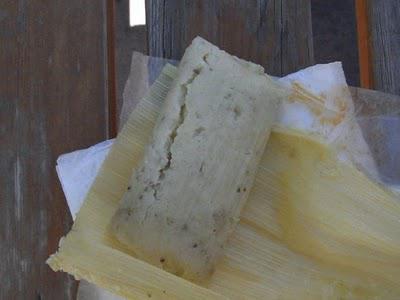 Unwrap the corn husk and the first thing you get is a sense of anticlimax. Not exactly a thrilling food to behold. Bite into it and it's very moist and favoursome thanks to the melted cheese inside and, as it's filled with a green chilli salsa, an extra hit of flavour and just a mild glow of warmth. What's the outer casing of the tamale? It's a type of corn dough called Masa, made from corn crushed into a fairly coarse flour (hopefully some of my US readers can provide a better description than mine). The masa dough is rolled around the filling to form the rolled cake, then it's wrapped up in the corn husk, then they are steamed in batches for some amount of time (not sure how long). The popular alternative tamale filling is ultra-tender, slow-cooked pork teamed with a hotter red chilli salsa.
To wash down my inaugural tamale with another $2 I bought a large, home-made lemonade, and I'm becoming very fond of these concoctions indeed. Wherever you go it's different from the last one. Some are less or more sweet than others, less or more lemony, too. None are fizzy or sickly sweet, and all are wonderfully refreshing thanks to the lemony tartness. My other new favourite drink is iced tea. If I can't find a home-made lemonade on offer I'm finding home-made iced tea aplenty, and they share the same virtues as the lemonade. Not too sweet (in fact a few are so unsweetened you need to add sugar), each is obviously different and home-made, and all are very refreshing in hot-to-warm and dry Santa Fe.
At this point I think I really ought to sign off for the day, but there's actually another place where Pam and I ate out on our first night in Santa Fe, and while the food there is hearty and tasty, it was the whole ambience of the place, and the story behind it, which really captivated us both. So I know I promised to blog at some stage soon on those cute and cuddly rattlesnakes, but I'll have to ask them to wriggle aside for another day or two, because next on my blogging list is the wonderful world of cowgirls!