While my enthusiasm for garden blogging might be on the wane, the opposite is true for gardening itself. I've never enjoyed it more. Perhaps the blogging has been getting in the way of my enjoyment of gardening? In recent years I suspect so, hence very little activity here on the Garden Amateur blog.
So here's a rare posting on how things are going here in spring. I may post  something during summer, but right now in spring there is almost too much to talk about.
The one thought that hit me the other day as I was admiring all the flowers and crops is how spring makes you feel like you're a better gardener than you probably really are. Everything grows so well, it all seems so easy. Plant something new and whoosh! It races away like happy children in the park.
Summer in Sydney, however, brings you back to earth with a thud. The humidity, the heat, the sheer difficulty of helping everything to merely survive is hardly a joyful pursuit — it's an important part of the gardening year of course — but gardening here in spring is a much more wonderful time to be out there among all the plants. 
Encouraging little garden sprites whisper in your ear "Hey, you can do this!" and "That worked well" as you tour the flower and vegie beds. It's good for your soul to be out there soaking up the success. 
So, here's my usual little 'photos with captions' essay on what's happening here now. It's very pretty, a lot of fun, and I sometimes wish spring would last forever.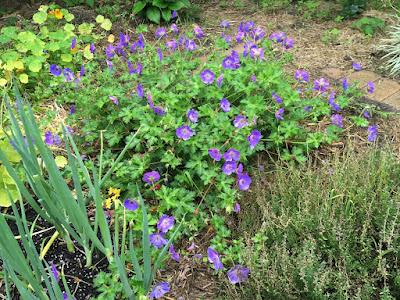 The amazing Geranium Rozanne is getting bigger and better all the time. It started flowering its head off in midwinter when we bought it and has never let up. It's now spreading about three feet wide and rising two feet tall and it's covered in the prettiest purple flowers.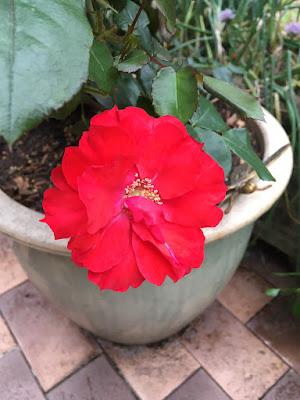 This feels like cheating, but I love it. All you need to do is buy a La Sevillana rose in flower from your garden centre, bring it home, whack it in a bigger pot and let it flower on. This is one of "Pam's plants". She saw it at a friend's house, loved the clear red colour, issued orders on what we needed next and a week later it was brightening up our pergola area. It's so lightly scented that you barely notice it at first, but I have never seen anyone admire a rose without sticking their nose into the center. However, Pam being an artist with an eye for colour, this is definitely the rose she wanted.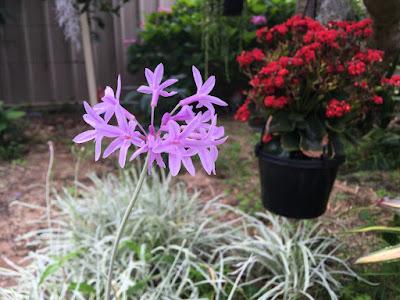 This is our society garlic, or Tulbaghia, in flower. Lots of variegated strappy leaves with these pink trumpet flower clusters on tall stems rising up. I admire its tenacity. All sorts of horrid weeds like to bully it but it never gives up and always shows up.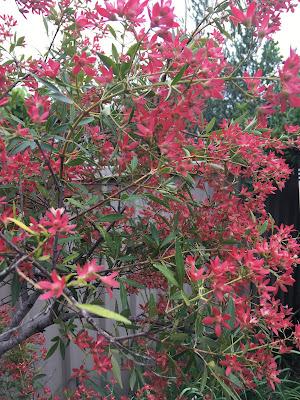 Our potted New South Wales Christmas Bush is getting better at timing its display of coloured bracts for the festive season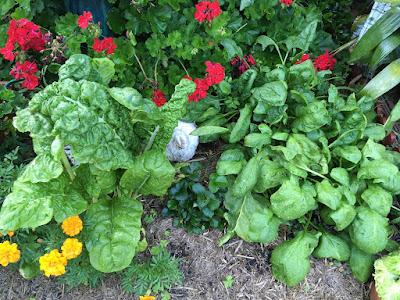 Boy, are we eating a lot of spinach and silver beet right now. Pam loves it Japanese style, chopped and steamed with a sesame dressing, and I love it Indian style, in dishes such as Palak Paneer and Chicken Palak. The golden rule with these prolific spring crops is that if you think you haven't planted enough, you've probably planted too much already.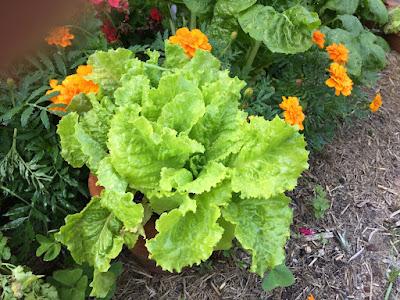 Lettuce thrives in spring but soon gives up the will to live once summer comes around. Fortunately we're a little pair of salad munching bunnies, and Pammy also loves to make up egg and lettuce bread rolls for lunch.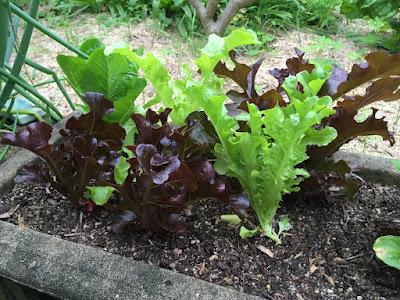 I'm a sucker for multi-coloured bowls of salad greens, and so I find all seed packets of "mixed lettuce" to be irresistable. Here's another crop approaching harvest time.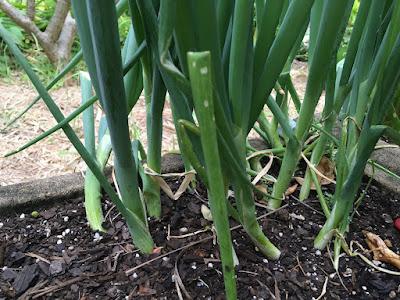 My other must-have crop in our garden is shallots, or green onions, or scallions, or whatever you call them in your part of the world. I'm still perfecting my skills at sowing enough — and especially not too many — seeds to raise the next punnet of seedlings while the current crop matures, but this is much more satisfying than buying a punnet of far too many shallot seedlings at the garden center and only planting half of them.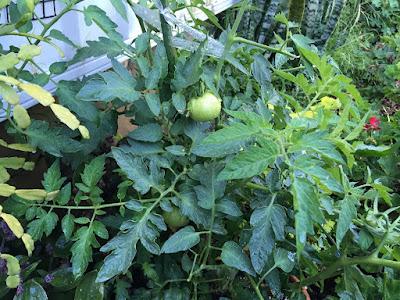 Who me? Impulse-buy a Grosse Lisse tomato plant at the local Woolies supermarket? Yes, of course. Total sucker for growing tomatoes, with a very ordinary success rate on the big tomatoes, and a perfectly acceptable success rate on the cherry tomato front. So of course I am attempting to keep a big climbing tomato happy in spring. Summer will be the seasoning of reckoning, but I am prepared to take on the challenge.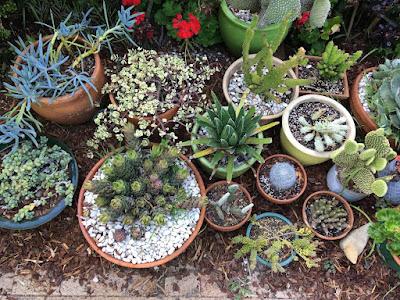 On the other hand, all the potted succulents are looking forward to summer's heat. Ever since I repotted them they are all loving the new potting mix. And though it's hard to see here, there's a very thick layer of pine bark mulch spread between the pots and all over the formerly weedy succulent patch, and for the meantime at least, the weeds are not enjoying life at all. They're probably biding their time, waiting for the mulch to break down, but right now the succulent patch is a peaceful village of potted contentment.

So there you have it loyal readers, all 10 of you. Pammy and I are both really enjoying this year's spring in our garden. 
Pam's art students love wandering around and finding something to draw or paint, and for me as a gardener that's plenty of job satisfaction right there.