This Weeks Picks:
Tuesday's Top Ten
Well, this week I managed to stick to ten items - compared to last weeks eleven - and boy, are they ten sexy items that I have for you! I would say about 90% are items that I have been considering buying and not what I have worn like last weeks, but I think I've made up for that with my sudden burst of style posts this week - I hope, anyway! So, without further adieu, here are this week's top 10!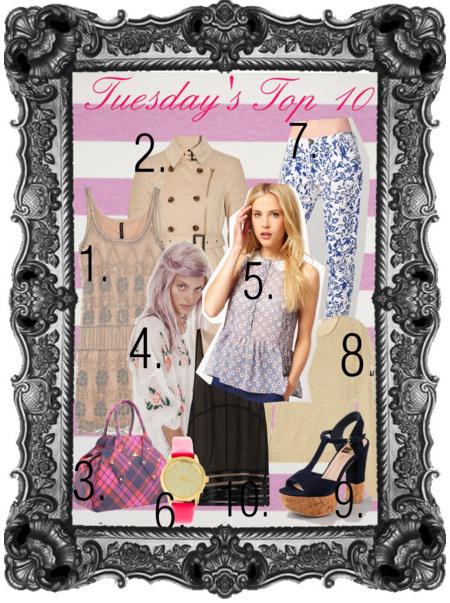 1. W118 by Walter Baker Eileen Beaded Mesh Dress
2. W118 by Walter Baker Keanu Faux Leather Sleeved Trench
3. Vivienne Westwood Derby (MacOxford) Bag
4. White Fox Label Prairie Rose Lennon Sweater
5. ASOS Sleeveless Peplum Blouse w/Daisy Print 6. ASOS Patent Colour Watch
7. DVF Relaxed Straight Leg Jean
8. Richard Nicoll Metallic-knit Sweater
9. Dolce Vita Baxter Suede T Strap Sandals
10. W118 by Walter Baker Eileen Chiffon Tank
Item number 2. Faux-leather sleeve trench is an item which I bought this weekend and all I can say about it is that it fits like a glove. It's unbelievably comfortable, soft, warm and above all: oh, so stylish! I definitely recommend it as a must buy for Spring/Summer 2012 - and every season after that, actually. I will be featuring it in tomorrow's style post, so make sure you come back tomorrow for that!