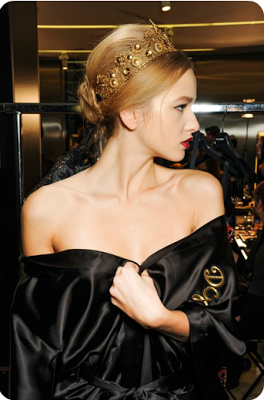 MFW AW

'13;
Dolce & Gabbana
If the D&G AW'13 show was one thing, it was elaborate. There was an heir of royalty (see what I did there?) amidst the models with their gold crowns, jewels, cross necklaces/earrings and stain glass print garments. Even backstage before the show, the D&G army were dressed in slick, liquid black dressing gowns complete with 'DG' gold embroidery across the chest. I really want to own one of thos

e now that I've seen them.

It was luxurious, bold and everything you expect to see from the Italian design duo at Milan Fashion Week.
Maybe

I'm being a little bias

, but I absolutely adore MFW and th

ink

that it possibly tops the other capitalsduring Fashion Month every

season

; the collections are just so bold, yet don't run the risk of looking cheap or tacky as can be the case at some London shows. Let's face it, London likes to push boundaries and sometimes this just

comes across less

than appealing. Taste is something which is definitely always present in Milan though and I think that the D&G show showed this quality off to a T.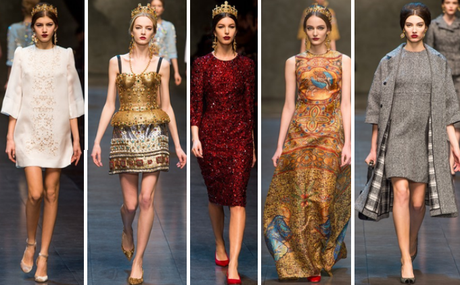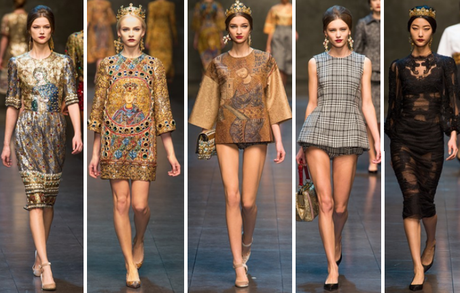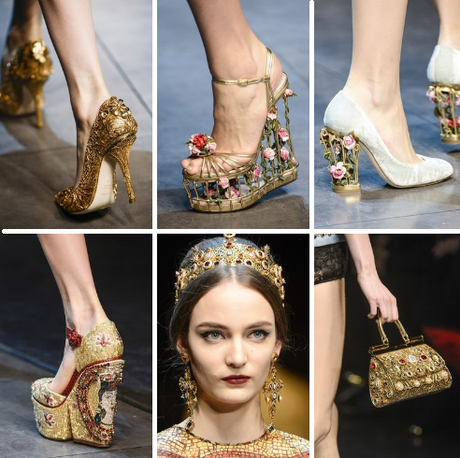 Just like Versace's AW'13-14 show however, I found that I was attracted to the little details and accessories just as much as the collection itself. Well, I mean with gold crowns how could I not be? It's not something that I would march down the high street wearing, but I'd definitely wear one around the flat

-

It would certainly mak

e

washing dirty dishes a lot more

fun anyway

Every girl wanted to be a Princess or Queen for the day at some stage in her life and

now she can be.  
I loved the gold courts and miniature hand bags the most - after

the

crowns of course - but although those floral caged wedges are undoubtedly a pretty

cool concept

, I just can't bring myself to like them. It's

sort of

like the Prada

geisha

platform shoe from SS'13 all over again for me. Hated those unfortunately. The velvet court shoes with floral caged heel I can d

eal with more though

. I think it's just a case of 'less is more' with that design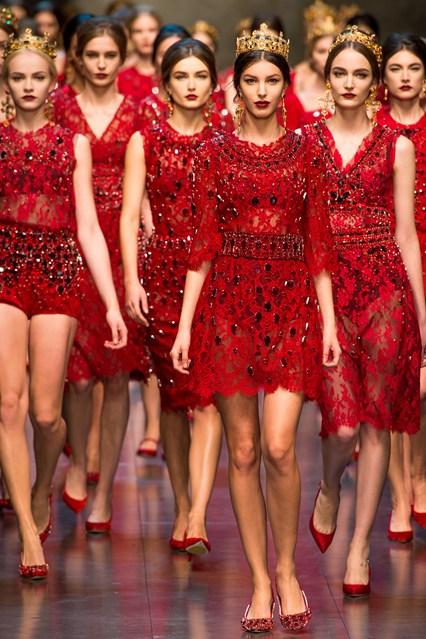 Overall it was a great collection, with an end series of ruby red looks that were seriously stunning as the models took their final walk down the runway. There

has

just always been something about that color that screams Italian luxury to me.

What did you think of the collection?
  Photo Credit: www.vogue.co.uk - edited using Polyvore