As you know, I'm a fan of all things dark and gothic - I mean, I think I'll only ever stop wearing black when they can make a darker colour - and when I think of these things I automatically think Alexander McQueen. Now, from time to time I like to imagine that I have a bank account with an endless sum of money and can buy whatever I like, so recently I felt the need to have one of these imaginary shopping trips over on the

McQueen

website. As you do.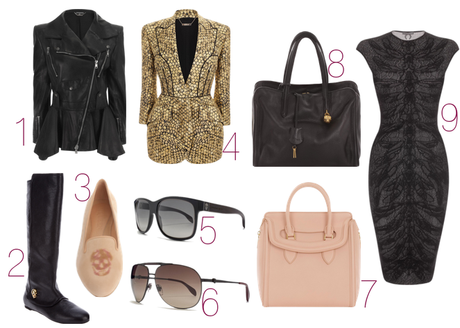 1.
Exaggerated Collar Leather Biker Jacket
2.
Black Skull Charm Boots
- (
Ankle boot length
available here
) 3.
Suede Sequin Skull Slippers
4.
Gold Honeycomb Jacquard Jacket
5.
Oversize Wayfarer Sunglasses
6.
Gunmetal Aviator Sunglasses
7.
Blush Medium Heroine
8.
Black Skull Top Handle Bag
9.
Dragonfly cap sleeve pencil dress
As soon as I saw those jackets, I fell in love. The leather biker is a classic piece that would get worn with pretty much every outfit I could ever think of putting together and never go out of style; whereas the honeycomb print jacket would help make any basic black pieces look planned and thought out - don't you just love effortless style?
In terms of accessories, I've been looking at nude pieces for Spring as they go with just about anything and that blush Heroin bag is stunning, so I knew I had to have it - in my imaginary shopping bag of course. Today wasn't anything to go by, but it's been pretty sunny recently here in the North East and I've had to remember where I stored those sunglasses before winter. I think it's safe to say that I'm definitely in need of a new pair, so I went for the good ole' aviator and slightly retro styles. Simple, stylish, they'll go with everything, sorted.
Nothing compares to a little retail therapy every now and then - even if it is just in the form of a wish list.