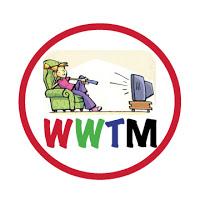 The answer to 
Monday's Trivia Question
:  Ann Romano actually had 3 boyfriends.  David, then Nick and then Sam who she married.  Nick had a son named Alex who was played by Glen Scarpelli.  Sam was Mark, Barbara's husband's dad.  Sam was played by Dr. Johnny Fever, Howard Hessmen.
FIRST FIVE: Phyllis DiCesare, Monica Caraffa, Dan Realson, Crystal Kyler & Evan Schweitzer
Honorable Mention:Maryellen Papanicolau
Friday's Cable Top 5
Duck Dynasty-A&E 1.1/2.5

NBA Basketball-ESPN .9/2.0




NBA Basketball-ESPN .8/1.9




FX Movie-FX .7/1.7




WWE Friday Night Smackdown-Syfy .7/2.8




Sunday's Broadcast Top 5 The Amazing Race-CBS 2.4/9.1

The Simpsons-FOX 2.3/4.7

Once Upon a Time-ABC 2.1/7.2

Family Guy-FOX 1.9/4.1

The Cleveland Show-FOX 1.9/3.8

Sunday's Broadcast Trendrr Top 5 The Simpsons-FOX 85,499

Once Upon a Time-ABC 60,890

Family Guy-FOX 47,634

The Amazing Race-CBS 40,238

The Celebrity Apprentice-NBC 39,086

Sunday's Cable Top 5 NA Sunday's Cable Trendrr Top 5 The Walking Dead-AMC 713,964 The Bible-History 188,608 NBA Basketball-ESPN 82,236 The Real Housewives of Atlanta-Bravo 52,294 Talking Dead-AMC 39,788

Top 5 DVR'ed Shows for the week of 2/11/13-2/17/13 Modern Family-ABC From a 3.8 to a 6.1 (+61%) Big Bang Theory-CBS From a 5.5 to a 7.5 (+36%) Grey's Anatomy-ABC From a 2.8 to a 4.5 (+61%) The Following-FOX From a 2.4 to a 4.1 (+71%) Glee-FOX From a 1.7 to a 3.1 (+82%)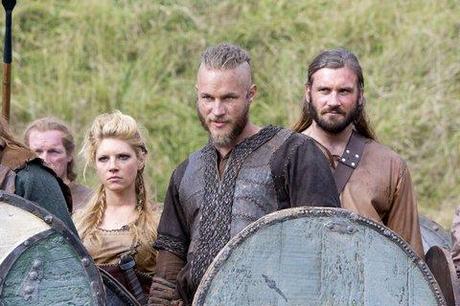 As soon as I was done dealing with my 11 year old and all of his drama, I settled in and caught up on Vikings from Sunday night, aka...Game of Thrones lite.  Lots of similarities but lots of differences too. (not as violent, way less sex and no nudity at all). I'm not exactly sure where these people live, I'm guessing Norway, Sweden or Denmark, wherever Vikings would live back in the day. Anyway, Gabriele Byrne rules the land and always has his people raiding lands to the east, but there are these 2 hot brothers, with their own ideas. Super hot Ragnar and his not quite as hot brother Rollo want to sail to the west to find treasures and riches using this sun dial looking thing that some wanderer (or wonderer) gave him.  So they get this wacky looking freak named Floki to build them a ship.  Of course it all has to be on the downlow or Gabriele Byrne and all of his people will try to stop them and kill them since they are going against his rules. Super hot Ragnar is married to this amazing woman who is great with a sword (you can take that any way you want).  They have a son and a daughter.  Ragnar's not quite as hot bro has a thing for wifey and maybe a history but we're not sure yet.    The show is pretty good and I did give it the season pass award, I just wish it wasn't on Sunday's especially once Game of Thrones starts, Sunday's are going to be crazy. 
The women of Real housewives of Beverly Hills were still in Paris this week.  They were wandering around shopping and sightseeing in the highest heels possible.   Yolanda and Brandi were running along the Seine, stopping to do cartwheels and talk about the last time they were both in Paris..  Kyle and Maurico walked along the bridge with the locks of love and of course Mauricio had a lock in his pocket just for the occasion.  (I'm guessing that the production assistant had it for him, no way he thought of it on his own.)  
Kims acting weird, super late, hysterical crying, 
Who knew Brandi would be the reasonable one, but she was. 
Cooking class with ducks with heads on it That Kim was fine with.
The chef sounded like he was from LA not France...wtf  white sparkly clothes for a cooking class
Fighting between Kyle and Lisa at the top of the EIffel Tower
Mauricio bought Kim a new bag
Rules of Engagment
Jeff and Audrey are Orangemen from Syracuse...who knew? Hang out with their college buddies
Adam has a bird named Mambo
Timmy with a big fur hat at a Peta rally
Timmy and Russell went to an assisted living place.  Timmy challenges Russell to spend one night donating his time.
Adam training the bird
Jeff didn't even recognize his friends
Is there anything without meat in it?  Yeah your underwear
I can't believe I'm wasting my rap on "oldie hawn"
News & Information
Over two telecasts on premiere night, THE BIBLE averaged 14.8 million viewers, 5 million Adults 18-49 and 5.6 million Adults 25-54. In the 8-10pm premiere
13.1 million total viewers flocked to THE BIBLE, including 4.6 million Adults 25-54. THE BIBLE is the #1 cable entertainment telecast of the year. Leading into the premiere HISTORY.com had it best day ever in its history, and THE BIBLE trended as #1 on Twitter with celebrities and influencers tweeting their own personal tune-in messages.
-
Over two telecasts on pre
miere night, Sunday, March 3, VIKINGS delivered 8.3 million total viewers, 3.4 million Adults 18-49 and 3.8 million Adults 25-54. HISTORY's first scripted series, VIKINGS, conquered 6.2 million total viewers in its 10 p.m. premiere timeslot, 2.7 million Adults 25-54 and 2.5 million Adults 18-49. VIKINGS is the #1 new cable series launch of the year among total viewers and Adults 25-54. At 10 p.m., VIKINGS topped all broadcast networks among Adults 18-49.
-FOX has given The Following, New Girl and The Mindy Project renewals for another season.
Tuesday's Trivia Question: What bank do Barney and Marshall both work for on How I Met Your Mother?  (Ted worked their too at one point).    WWTM-Kristy
http://watchingwaytoomuch.com
kristy@watchingwaytoomuch.com
kristy.carruba@watchingwaytoomuch.com