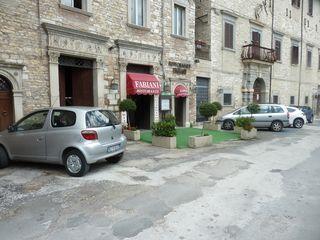 Fabiani in Gubbio was a place Colette chose because a review she read said they had fish; like Humphrey Bogart's Rick Blaine, who came to Casablanca for the waters, she was misinformed.  No matter, the wine (6.50E for 750 of House Red Sangiovese) and ragu sauce were as good as they come.
She started with grilled radicchio with oil and Balsamico and I had a mixed salad (the tomatoes were freezing cold & hard).  I had looked at the spaghetti with an Amatriciana sauce and inquired what it was; the waitress was stymied - "Pomodoro?" "Si" Carne?"  "Si" "Comme ragu?"  "Oh you want ragu (which was nowhere to be seen on the menu?) "Si"  "Ok".  It was as I said the best ever, exceding even Luigi Buitoni's in Paciano.  And Colette's chicken with lemon and thyme was half-bad either.
Our bill was 51 E with bottled water and two coffees.
--------------------------------------------------------------------------------