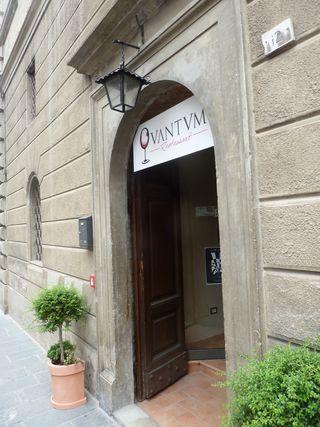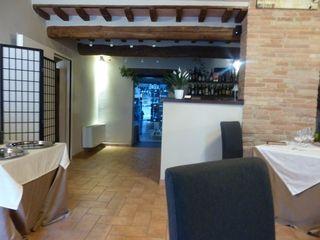 Qvantvm in Todi is an almost brand new restaurant we stumbled on en route to Pane & Vino across the street.  Chef Fabrizio Porrini has flags on his sleeve from his stints in France, Spain, England, Switzerland and Japan and he speaks excellent English and cooks great chow.
We were started off with glasses of bubbly and then Colette had a flan of peas with parmesan while I had a superb octopus salad with tomato and cucumber slices.  She had asked the chef about fish although the seconds were heavily tilted toward beef and he obligingly provided a superb portion of baby shark with vegetables while I had tortelloni of crab, zucchini mousse topped with squash blossoms.
The bread had a crisp crust, the wine was light and fresh, the music lovely (and celebratory of the 70th anniversary of the Liberation of 1944 with Glwenn Miller, Frank Sinatra, etc) and this place should go into the Slow Food Guide by 2015.
 Our bill with bottled water and coffee was 70 E.
------------------------------------------------------------------------