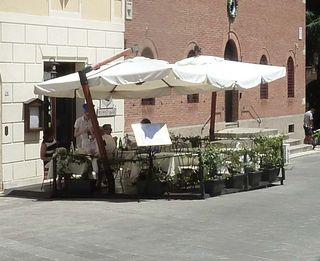 Il Grillo e' Buoncantoina in Chiusi is in the Slow Food Guide and listed as a place that pays special attention to local products and producers (indeed the last page of its menu lists all of them exhaustively).
Colette started off with perch from the nearby lake in a white sauce that was simple and lively and I had a gutsy ossobuco with tasty cherry tomatoes and room temperature thinly sliced strips of zuccini - the combination really worked.
For dessert she had a tiramisu of apricot and pistachios and I the half-lemon mousse with mint.
Our bill with a bottle of local Tuscan red, bottled water and two coffees, was 54.50 E.
---------------------------------------------------------------------------------------------