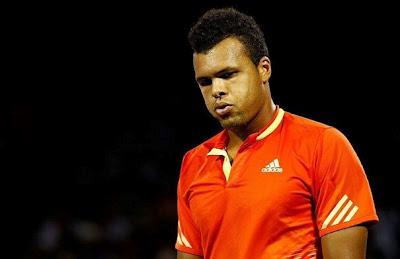 Near the end of his match with Nadal, Tsonga was visibly upset with the umpire who he claimed was favouring Rafa when it came to line calls. Tsonga discussed the issue in his press conference after the match: 
Q. At the end of the match when you were talking to the chair umpire, you were like complaining or something? 
JO WILFRIED TSONGA: Yeah, I was complaining because all the match, you know, I've got to I have to challenge, and I was right, you know, many, many times. So never take how you say? (Through translation.) He never take, you know, initiative when it's against Rafa, you know. And you know now it's all the time like this. All the time. 
So, you know, I have to be, you know, really focused, you know, on the ball, because if the ball is out, it would never if it's really close, he would never say out against Rafa. Always to say against me. If Rafa don't like him anymore, I mean, he would not be in the chair many times on final and semifinal. So it will not, you know yeah. That's it.
So sometimes, I mean, it's not fair. Because I have to take decision, you know, all the time. And he never take decision. He just say the score. That's why, you know, sometimes I'm upset about it.
Q. So you think you have double work on the court? 
JO WILFRIED TSONGA: Yeah. It's like a double work. I have to watch the ball and the line and everything, and I have to play. I mean, then, you know, it come in your head and you focus on it and you don't have to. Then, you know, I lose my concentration, you know, sometimes because of that, because, I mean you know, there is sometimes, you know, many reasons, you know. 
He played like three times on the court. I played I didn't play on the court. I played I mean, it's like this.
To read the full interview click here.