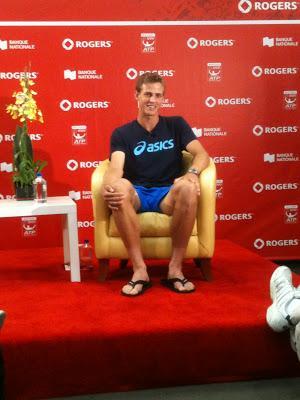 Vasek Pospisil after defeating Berdych
Yesterday on Twitter I asked if anyone had predicted a Raonic vs. Pospisil semifinal, and then I claimed that anyone who said they had was a liar. But apparently I was wrong...


So thank you Jared Pine (
@JaredPine
) for sending me this and making me feel bad that I had less faith in the two Canadian boys than this ATP Fantasy fellow. (But seriously, who makes that pick?)
On with my semifinal prediction...
Vasek Pospisil vs. Milos Raonic
All I can say is you did good Canada. You did really good. I don't know if it was the rambunctious and very biased Canadian crowd that helped these two reach the semis, but even if the crowd helped them along, they both had to play great tennis to end up in the final four. That's right—two of the final four players at this tournament are from Canada. 
Vasek has played some amazing tennis and his excitement is infectious. I was on the National Bank Court while Pospisil was playing Berdych and the atmosphere was incredible. The other players have been describing the experience of playing a Canadian player here as being the same as playing a Davis Cup match, and I would have to agree. And no one has revved up the crowd more than Vasek Pospisil. He genuinely seems so surprised and elated to be in the position he's in and when he walks into his press conferences he can't stop grinning. It is for this reason that I think Vasek is going to defeat Milos today. 
Milos has been the better player for the past few years, so all the pressure is on him to win this semifinal match. If he doesn't win, it will only add to the talk that Milos has been hyped up too much and that he still hasn't produced the results that people expected of him. On the other hand, just reaching the semis is an unbelievable achievement for Vasek, so no matter what happens today, this will be seen as a breakthrough tournament for him.
Milos is also the more subdued player and I think the crowd will get behind Vasek and his endearingly enthusiastic personality. That's not to say that I don't think the crowd will support Raonic, because they will. I just think that as the match goes on that Vasek might get a little more support.
I'll take Pospisil defeating Raonic in three sets. But no matter what the result is we'll have a Canadian in the final of a Masters 1000 event...and that is a big deal.