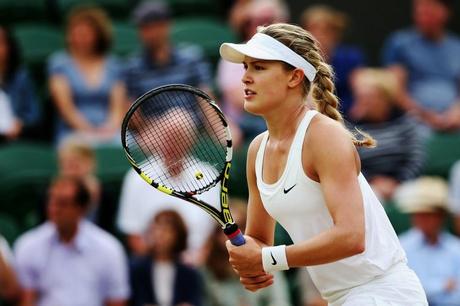 I usually can't say enough good things about the Second Monday of Wimbledon. If you can only attend the tournament on one day—this is the best day to go. Instead of the usual schedule of one half of the draw playing on one day and the other half playing the next day, on the Second Monday ALL remaining men and women play. This means there are lots of great matches being played and because not all of them can be played on the show courts, you'll still get to see high level players on the outer courts even if you only have a grounds pass. It's usually the best day in tennis and it's usually glorious.
However, the Second Monday of Wimbledon 2014 is not going to be quite so glorious. Yes, it will still feature many good matches, but you won't get to see all the remaining players. In fact, you won't get to see Federer or Nadal at all. A very rainy Saturday meant that many matches got cancelled, and because there is never any play on the Middle Sunday, these cancelled matches will be played on Monday and some of the matches that would have been on Monday will now be on Tuesday. So basically we get a second rate version of a Second Monday.
It's not all bad though. There is still the potential for some pretty exciting matches. Here are my two must-see matches on Monday:
Novak Djokovic vs. Jo-Wilfrid Tsonga
This match could go one of two ways: either Djokovic blows Tsonga away in three easy sets, or Tsonga plays the kind of amazing tennis we know he can play and forces a fifth set...and Djokovic still wins. As talented as he is, Tsonga is way too inconsistent to beat Djokovic in a five set match at Wimbledon. Plus, Novak needs to atone for his lacklustre French Open final performance.
Prediction: Djokovic wins in three sets
Genie Bouchard vs. Alize Cornet
The biggest upset of the tournament so far is, without a doubt, Alize Cornet's win over Serena Williams. Knowing that she took out one of the toughest competitors in the sport has got to give Cornet a huge amount of confidence, but she'll need more than just confidence to beat Genie Bouchard. Genie has reached the semifinals in every Slam this year, and she won't want to break her streak—particularly now that she won't have to face Serena.
Prediction: Bouchard wins in three sets
Other intriguing Monday matches include Marin Cilic vs. Jeremy Chardy, Feliciano Lopez vs. John Isner, Andy Murray vs. Kevin Anderson, Maria Sharapova vs. Angelique Kerber, and the continuation of the suspended match between Ana Ivanovic and Sabine Lisicki.