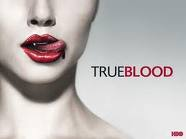 Recently, my husband, who is a fan of Aussie radio station Triple J, was listening to it on his drive home from work. Guests on the show included members of the band Warpaint, and Liz Cambage of the WNBA. One of the many topics of the day was the current vampire trend, and The Doctor (DJ) requested to speak to fans of HBO's True Blood and vampires in general. People rang up to say they were fans; there was also some discussion as to why people like vampires, or why they don't. Being the opportunist that my husband is, he insisted I send Triple J a text.
So I did.
And this is what happened (the whole podcast goes for over thirty minutes; the vampire talk starts at around 18 minutes, and my call comes in after the 29 minute mark):
For more info on the True Blood themed Halloween party in Melbourne, "Club Fangtasia", click here.
Source: Triple J/Rachel Tsoumbakos
(Photo Credit: HBO, Inc.)