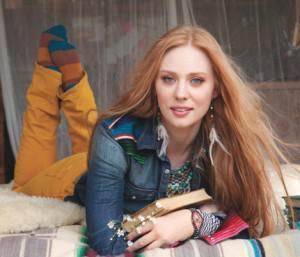 With the weather cooling down, now is the time to get into denim – just like HBO star Deborah Ann Woll (Jessica in True Blood).
Deborah always looks stylish, but apparently was bullied at school. As a result, she dyed her hair from her natural pale blond to the amazing red we all recognize today:
I dyed my hair red to say, I'm not a ghost who will fade away
Woll not only looks good, but she has a kind heart also. Currently, she is training for a half marathon after being inspired by her visually impaired boyfriend, who also runs in a bid to raise money for charity. Besides that, she also swims, camps and is into canoeing! So she looked right at home in these Navajo-style prints and boho inspired denim outfits.
Make sure you check out the rest of SELF's stunning images of Deborah Ann Woll here.
Let us know which item is your fave by commenting below.
Source: Self.com – 8 Hot Denim Trends to Try
(Photo Credit: Coliena Rentmeester/Self.com)