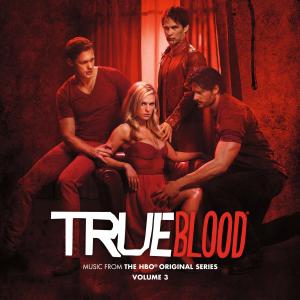 The third True Blood soundtrack, True Blood: Music from the HBO Original Series, Volume 3 was released on September 6. BlogCritics.com posted a review, and in it, author Amanda Stonebarger states:
"If 'Southern Gothic' were a musical genre, the term could be used to describe True Blood: Music from the HBO Original Series, Vol. 3. For the latest soundtrack, music supervisor and soundtrack producer Gary Calamar cherry-picks from different branches of Southern music and spins a sinister thread throughout, creating a mixture of country, rock, and soul straight out of the Louisiana swamp or a seedy vampire bar."
In the CD's booklet, Alan Ball talks about music being important in creating the show, and how it helps the writers set the tone of the show each week. The music also provides episode titles, and this volume includes songs from Season 3 and Season 4. The first song on the album is "Season of the Witch" by Karen Elson, featuring Donovan, which I think had almost the same reception as "Bad Things" by Jace Everett, which is the show's theme song.
Other songs on the album include "Hitting the Ground" by Gordon Gano and PJ Harvey; "Spellbound" by Siouxsie and the Banshees; Damien Rice's "9 Crimes"; Gary Louris and Jakob Dylan's "Gonna Be A Darkness";  as well as the covers "And When I Die" by The Heavy and "She's Not There" by Nick Cave and Neko Case.
The deluxe version of the album includes four different versions of songs on the standard album — "Bad Things", covered by Black Rebel Motorcycle Club, and three covers of  "She's Not There" by Dick Isreal and the Soothsayer, L'Avventura, and Paper Pilots.
I, for one, like all the songs on the album and can't wait to purchase it. What about you, Truebies? What do you think of the music on the album? Let us know by commenting below.
Source: blogcritics.org – Music Review: True Blood: Music from the HBO Original Series, Vol. 3
(Photo: HBO, Inc.)