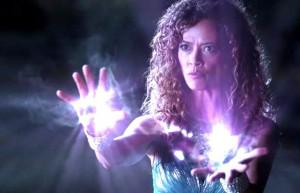 For the second last episode of HBO's True Blood, this one is surely filled to over-flowing with bloody gore. For starters, we find the typically bloody Lilith appearing to Bill Compton and trying to convince him that he is the chosen one.
Next, we find Nora contemplating her previous vision of Godric being beheaded by Lilith. Is she having second thoughts perhaps? Or is she just missing her maker? Salome appears and cheers her up though. Seriously, Salome has made her way through a large chunk of the vampire cast of True Blood – and she's only one season old!
Jessica seems to be edgy and wants to keep Jason sheltered from the non-mainstreaming vampires. She tries to convince Bill to let her bring him back to Authority HQ. This backfires though and it looks like she will have to turn him in order to protect him – oops! Will Jason make it out of this episode alive?
It seems all Nora's contemplating has resulted in her defection from the ways of Lilith and the Sanguinista. We find her making amends (and getting naked) with her brother, viking vampire Eric Northman, in the very next scene. My, isn't the plot thickening deliciously for the season finale next week!
Sookie and Jason are sitting in fairyland and discussing the fact that Sookie was sold to a vampire over 300 years ago, thanks to the contract between a previous Stackhouse relative and Warlowe. Jason vows to protect her before leaving fairyland – I wonder how long it is before Jessica tracks him down?
The army is now concerned with the way vampires are behaving of late and a military general is sent to Authority headquarters to speak to Roman about it. Since Roman is dead, it gets a bit awkward here. The vampires there try to convince the general that Roman is unavailable. The general is not impressed but announces that the military knows vampires bombed the Tru Blood factories and tries to blackmail the vamps by letting them know that they are aware Russell Edgington is alive. If the general is killed then video footage of Russell and Steve Newlin killing college students en mass will be released to the general public. This probably would have worked too, except Eric goes all renegade and kills the general. What is he playing at? Once everyone calms down, Eric and Nora claim they can clean up the mess by glamouring everyone involved with the dead general. Bill seems suspicious and makes them take a security team with them. At least Eric is finally free of the Authority! And when Eric goes to change the channel in the car and kills the front seat passengers, he is also free of the security detail!
Jessica finds Jason. He starts to get suspicious as soon as he sees the security surrounding Jessica. It worsens when Jess starts talking about trust. It seems she is trying to send a message to Jason, but he is his normal thick-skulled self and doesn't get with the program. Jessica is forced to bite him in an attempt to turn him to placate her security. When Jess's security team are burying her and Jason, it seems he certainly did understand what she was saying earlier and jumps up and shoots the two shovelling vamps before they even know it – go Jason! He's still mad a heck at Jess though.
Pam and Tara are cleaning up the remains of Elijah. Tara gets a crash course in what the Authority are and why she has done the wrong thing by killing the new Sheriff. While this is going on, Jessica arrives in a panic and wants to be hidden by them. Pam is against the idea until Jess admits she knows where Eric is.
Sookie is taken to meet a fairy Elder. This fairy is a distracted dancing fairy who seems more interested in finding out Sookie's music taste rather than discussing Sookie's ancient contract. Finally, Sookie gets her to concentrate and the Elder admits that hers, Sookie's and Warlowe's paths are intertwined. Before she can divulge any further information, Jason arrives and the mere mention of Russell Edgington's name is enough to put fear into the fae. All the fairies agree to fight the vampires. Sookie and Jason devise a plan to lure Russell Edgington closer so the Elder can get rid of him.
Holly gets her kids to apologize to Andy for putting his butt on Facebook. Andy promises to look after their mom. It seems this may be an impossibility since later on in the episode, Maurella arrives and expects Andy to protect her and their unborn child. Apparently, Andy rejecting her is considered an act of betrayal against the fairies and there is a possibility this may lead to an outright war! I don't think Holly is going to happy with Maurella and Andy when she finds out about this.
A whole scene occurs while Alcide is shirtless and chopping wood. I'm not sure what was said the first time round (Alcide + no shirt = total lack of attention span), but with the second watching, it turns out that a former member of Jackson Herveaux's pack arrives to warn them that there is a lot of baby vamp attacks going on in the area. Luckily, Jackson has his trailer surrounded in silver. While it won't keep older vampires out, it will protect the weres from the younger, dumber ones.
Pam, Jessica and Tara discuss the change in Bill and Pam decides it is a sure case of nest mentality. When she leaves, Tara and Jess seem to sort things out a little. Rosalyn arrives at Fangtasia next, looking for her progeny, Elijah. When Rosalyn threatens Tara, Pam owns up to killing him to protect Tara – go Pam! Rosalyn has Pam arrested though – will Pam survive this season?
More Lilith hallucinations are occurring for Bill.  The problem is, Lilith seems to be messing with all the vampires. When Bill goes to drink her blood, he finds Kibwe there – also professing to be the single vampire chosen by Lilith. Bill decapitates him. Next it is Salome's turn to think she is the chosen one. Is it vampire blood or peyote in that vial they've all been drinking from?
Alcide and his dad are surrounded by baby vamps, luckily the silver fence does it's job. When they move on and decide to harass another trailer load of food people, Alcide has had enough and manages to take out a few baby vamps before getting overwhelmed. It's lucky his father steps in and kills the rest. It seems Jackson isn't a nasty as we first thought.
Jason is patrolling Sookie's house, waiting for Russell to arrive. Surprise, surprise,  the plan works and Russell arrives with Steve Newlin. It seems to be failing though when Russell glamours Jason and he reveals a lot of information about the fairies. Needless to say, the end result is the same: Russell is led to the fairies.
Sam and Luna are mousing their way around Authority HQ looking for Emma. While nudity is an unfortunate by-product of shifting, it turns out to be their savior when they are caught unaware by Authority security. It seems there is a bunch of naked people being held as vampire beverages and they mistakenly think Luna is one of them. While security are "returning" Luna to the cell filled with the other nudies, Sam volunteers to be vamp refreshments. More than a few main characters lives appear to hang in the balance this season. While this is going on, Pam and Jessica arrive at HQ as well. Jessica and Bill have an argument while Pam recognises Sam. It will be interesting to see how all this pans out in the finale. But once again, Pam and Eric are separated, their roles now reversed: Pam is trapped and Eric is free.
Russell can smell the fae when Jason leads them to the fairy field. The Elder arrives and attempts to send Russell into another dimension but hits Jason with her microwave fingers instead – Uh-oh! Just when you think it can't get any worse, Russell captures the Elder and drains her dry! (Is it wrong to be happy this annoyingly distracted dancing fairy is gone already?) The nasty side-effect of this is that Russell can now see the entrance to fairyland. Does this mean he can also access it? I guess we'll find out next week in the season finale.
What do you think? Let me know in the comments below. Also, is anyone planning a season finale party for next week? Let us know all about it. I, for one, will be baking Gran's pecan pie and washing it down with Tru Blood cocktails.
(Photo Credit: HBO Inc.)