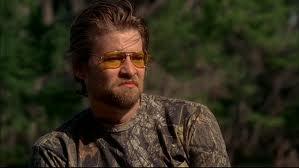 While Season 4 has yet to start for True Blood, there is talk of a new character for the series. HBO is on the lookout for an actor to play a military friend of Terry Bellefleur (played by Todd Lowe).
It seems that this character may turn up as early as the Season 4 finale, but will stick around for quite some time into Season 5. The character appears to have played a major part in Terry's life, having saved it twice before.
Now all we need to know is if this character will be human or not?
Source: E! Online – Spoiler Chat: Who Wants Summer TV Scoop?
(Photo Credit: HBO, Inc.)