Once again, True Blood grabbed our attention from the beginning of the episode and didn't let up throughout its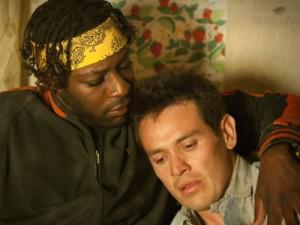 entirety. Was there anyone who didn't get enough Sookie/Eric loving last week? If so, this episode will gladly satisfy your thirst. All I'm going to say is the porch, the floor, AND the bed… Need I say more? (No complaints here, though!) Anyone curious to know more about what happened during "Cold Grey Light of Dawn"?
The Vamps:
Speaking of Sookie and Eric, Eric confesses to Sookie that he doesn't want his memory back and that he would rather continue being the person (or vampire rather) that he is now, than gain all of his memories and revert back to the "old Eric." Not only has Eric changed, but Sookie has as well. Is it just me or is Sookie's love for Eric different than her love was for Bill? There's something about her being in love with Eric that I like more than when she was in love with Bill. Don't get me wrong, I love Bill Compton, but there is just something about Sookie and Eric that I love more! As for Bill, this was an intense episode for him and his progeny, Jessica, as well as all the other vamps. Because of the current situation with the witches, all vampires in the area were forced to evacuate, aside from those of higher importance, (Bill, Jessica, Eric, Pam, and the other Sheriffs of Louisiana) and Maxine Fortenberry's neighbor, Beulah, who unfortunately met the sun in this episode. Those who didn't evacuate were forced to bind themselves down with silver, other than Pam who bound herself within a rather striking pink coffin. Because of Pam's current zombie-like physique, she is given a "new" skin and required to take six shots, four times a day. Can you say OUCH?! So we've experienced the Sookie-Bill-Eric love triangle for quite some time now and this season a new love triangle is being brought into the open. You guessed it, Jessica, Hoyt, and Jason. It's depressing to see Hoyt's sadness over the feeling that he is slowly losing Jessica, but the worst part is that he does not yet know he might possibly lose his best friend as well. At first I really enjoyed the Jessica-Hoyt romance, but lately I've gotten bored with it. When Jessica was first brought onto the show, the last person I saw her in a relationship with was Jason. Surely I wasn't the only one that felt that way? Anyhow, I am really enjoying the Jessica-Jason storyline that has been going on lately. It's just a matter of time before something happens, regardless of how much they try to fight it! Jason has always been crazy about women and a good time, but after his near-panther experience in Hotshot, I think his views have changed.
The Witches & the Mediums

Marnie (AKA: Antonia) views Antonia as a victim who suffered drastically throughout her incarceration, but so far all that we have witnessed about Antonia's previous life was her imprisonment and horrific death. What did she do to get arrested in the first place? Most likely it was for practicing witchcraft, but how can we be sure? Tara feels drawn to Antonia and completely supports her cause. She has been harassed, attacked, and raped by vampires, why wouldn't she feel compelled to join her? Tara also decides to cut all ties with her girlfriend during this episode. While it was the right thing to do, I have a feeling that it will take her a little while to get back on track. Who knows, maybe if things don't work out for Luna and Sam, Tara and Sam can hook up again. As for Holly, I was a little disappointed that she joined the clan. I can see why she might support the cause, but not knowing how things could turn out and the fact that she has children to worry about frustrated me a little. Who would take care of them if something happened to her? Enough about witches, let's move on to the mediums. According to Jesus, Lafayette is a medium, just as Marnie is. Scary, huh? That has me very curious as to what's in store for Lafayette in the near future…
The Shifters
So from the previous episode, Luna was under the impression she slept with Sam and then he turned into a complete jerk. Unfortunately for her, she slept with Tommy unknowingly because of his skinwalker abilities, and now she and Sam are stuck in quite a sticky situation. How would you get over something like that? Granted, neither she nor Sam had a clue what was going on, but regardless that would have to be extremely awkward to work around. So after the revelation of the Luna-Tommy/Sam situation, Sam decides to officially ban Tommy from his life. I don't blame him, but now I have a feeling that Tommy is going to end up doing something extremely stupid, although I doubt he'll attempt to steal money from Sam again after what happened last time. As for Alcide, he and Debbie seem to be getting along just fine, but she can't seem to get over the idea that he has feelings for Sookie. He definitely cares for Sookie, but at this point I'm not sure just how much he cares for her. Does he care for her in a sibling sort of way or something more?
The episode ends with Jessica breaking free from her silver chains, crawling up the stairs, and opening the front door of Bill's house.  The sun shines brightly through the door and the credits begin to play across the screen.  Will Jessica meet the true death?  What thoughts do you have about this episode?  Where do you think the Jessica-Hoyt-Jason storyline will end up if she survives her meeting with the sun?  Let us know what you think in the comment section below!
(Photo Credit: HBO)