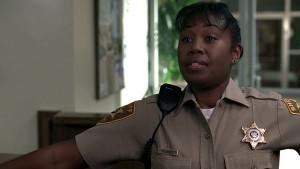 Actress Tanya Wright plays Kenya Jones on HBO's series True Blood. Ms. Jones is an intelligent, educated, multi-faceted talent whose resume also includes writer, director, and producer among her skills. Recently, she has showcased her talents with a trans-media project called 'Butterfly Rising'.
Ms. Wright developed 'Butterfly Rising' over the course of fifteen years. In addition to writing, directing and starring in the film that has enjoyed a successful festival run, Ms. Wright authored the 'Butterfly Rising' novel. The next incarnation of her project is an interactive game.
"BR (Butterfly Rising) is really an outgrowth of a script that I wrote 15 years ago called 'A Turn to Grace'. It was a screenplay I wrote that was a semi-finalist in the (Academy of Motion Picture Arts & Sciences') Nicholl screenwriting competition."
Ms. Wright says that this first screenplay generated interest in her as a young, female, African-American screenwriter. The script itself languished because no one was interested in making a film about African-American characters in the 1920's. After the death of Ms. Wright's brother, she says the story of Lazarus and his sisters, Mary and Martha, understandably resonated with her. She became slightly obsessed with the activity of butterflies in a tree outside of her house, even making up stories about the delicate creatures. When the character of 'Grace' from 'A Turn to Grace' began to invade these stories, 'Butterfly Rising' developed into an updated telling of her original script with a multi-cultural cast.
Writing is Tanya Wright's First Love, but Both Acting and Writing Are Like Her 'children'
Ms. Wright says that early in her career, she began to get acting role after acting role, all the while continuing to write. She was told she would have to choose between the two because she wouldn't be able to do both.
"But I saw lots of people that I liked and I admired doing it. Matt Damon and Ben Affleck did it with Good Will Hunting and Emma Thompson did it with Sense and Sensibility, Billy Bob Thorton did it with Sling Blade.  Now it's common place but the idea that those two things needed to be separated was a prevalent idea and it's like asking which one of your children do you want to kill off: the actor or the writer."
Ms. Wright did not choose between the two. She kept writing as she got work as an actor, the culmination of which is the script for 'Butterfly Rising'. Ms. Wright says that acting and writing are both vitally important and each one helps her to be better at the other.
Tanya Wright Believes Her Education Has Given Her Confidence and Choices
Ms. Wright is a graduate of both Vassar and George School. She characterizes her education as 'world class'. Born in the Bronx to a teenage mother, Ms. Wright credits her education with providing her with choices that are limited only by her own vision. She says her education has empowered her to go into the world to make changes or make a difference.
"In fact there is a quote in BR (Butterfly Rising) where my character says "you always got a choice even when your back is up against a wall. You always have a choice so don't ever think you don't have a choice"."
True Blood is a Deep and Complicated Show
Ms. Wright says that True Blood is a fantastic world that is complicated and different than anything she could imagine. In addition to being a sexy show about vampires, it's also about love, being an outsider, and other fundamentally human things. She says these themes are simply couched in entertainment and sexuality.
When asked about the most difficult or fun things about working on True Blood, Ms. Wright admitted to not liking the high number of night shoots. She claims to not be a night person and does a lot of sleeping in her dressing room.
"The greatest thing about working on the show like TB (True Blood) is that the reality is so heightened that it's almost like doing a play or an opera because it's so over the top the externals are so stylized that for an actor to be working in that world it's so much like theater that you don't really get a chance to do that too much in television so that's probably the coolest thing working on a show like that."
Ms. Wright has many other projects that are moving along quickly, now that she's experienced some success with 'Butterfly Rising'. Still, she says BR is the project nearest and dearest to her heart and refers to it as her "passion project".
You can read more about Tanya Wright's personal and professional thoughts on education and cinema, being an African-American woman in Hollywood, and working with Heavy D. 'Butterfly Rising' was the Opening Night film at Martha's Vineyard African-American Film Festival Tuesday, August 7, 2012 at 7:30 PM.
Sources: The Jackie Movie, Butterfly Rising The Movie, HBO