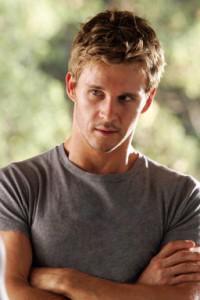 True Blood Hottie Ryan Kwanten, aka Jason Stackhouse, will star alongside Amy Smart and Leslie Bibb in the thriller 7500. Takashi Shimizu, who also directed The Grudge, will direct this film which was written by Craig Rosenberg. The movie is being produced by CBS Films.
This thriller is about:
"a group of passengers who encounter what appears to be a supernatural force while on a transpacific flight."
Kwanten and Smart will be paired as a married couple who travel on flight 7500 with two old friends on a trip to Japan. Bibb will play a flight attendant who is immersed in some type of complex and secret relationship.
Sign us up for anything with Ryan Kwanten! We have a few questions: Will he be playing an American or using his real accent? Will Kwanten be shirtless (always a plus)? Will there be any comedy, because Kwanten can be quite funny. Are you excited to see Jason Stackhouse in this upcoming thriller? Will you be lining up for a ticket or waiting for the DVD? Let us know your thoughts and ideas in the comments section below.
Source: Variety – Bibb, Kwanten, Smart board '7500′
Photo: HBO