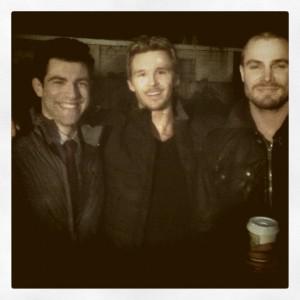 True Blood fans of Ryan Kwanten (Jason Stackhouse) are in for a treat on new TV show New Girl. Kwanten will guest star in the upcoming Valentine's Day episode, playing a character called Oliver.
In this episode, main character, Jess (Zooey Deschanel), is planning a one night stand to celebrate her first Valentine's Day as a single girl in six years. Enter hunky Ryan Kwanten. Jess meets Oliver (Kwanten) at a bar and things progress from there.
Deschanel posted this photo to Instagram which shows Kwanten along with fellow cast members Max Greenfield (who plays Schmidt) and Stephen Amell.
Make sure you mark the February 2012 episode on your calender!
Sources: E Online! – New Girl Casting Scoop: True Blood Star Coming to Romance Jess!
Instagram – zooeydeschanel
(Photo Credit: Instagram/Zooey Deschanel)