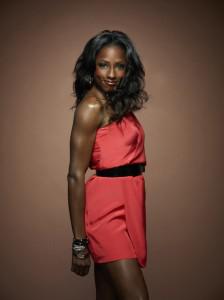 Season 4 of True Blood certainly ended with a bang, and if anyone knows about that it's Tara Thornton. Of all the drama she has gone through on the show, being shot in the head is certainly the worst thing that has happened to her yet. In an interview with W Magazine, Rutina Wesley reveals that not even she knows if Tara will survive. She spoke of Tara's future saying:
"What's happening to my character? Am I alive or am I dead? So it's a very scary place to be in, but it's awesome."
Wesley reminisces about some of her more interesting times on the show and how that compares to what she's currently doing. Wesley is currently starring in a play at the Lucille Lortel Theatre in New York called, "The Submission." In the dramatic play, Wesley stars as an actress hired by a playwright to take the credit for his latest, controversial play.
In the play Wesley has a few very intense scenes, though they are nothing like what she went through on True Blood. She compared the experiences, stating:
"They're both hard in their own ways. I think they're both degrading, but I think in a play like this, seven shows a week, it's a lot harder. Because I'm doing it every day. Whereas that was just a day's worth of shooting. We may do more than one take, but once it's done, it's done, it's in the can. But I have to go through this every night."
You can read the full story here. If you're in the area be sure to check out the play and let us know what you think!
Source: W Magazine – Five Minutes with Rutina Wesley
(Photo Credit: IMDB.com)