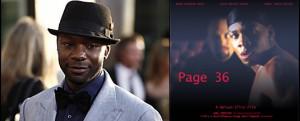 The fine actor who plays Lafayette Reynolds on HBO's True Blood, Nelsan Ellis, has made his directorial debut.  It's a short film titled Page 36.  Starring Roger Guenveur Smith, Edi Gathegi, and Sidney Poitier's daughter, Sydney Tamiia Poitier,  it will do the festival rounds later this year.
Here's the synopsis:
"Roman Wilson is a two time felon recently released from prison. Faced with no positive prospects for employment and a terminally ill child, he is recruited by a company that promises immediate wealth and a new way of life for his family languishing in poverty, but at what cost?"
We're looking forward to being able to see this short film by our beloved Lafayette.  Thank goodness we'll be seeing him very shortly, when the new season of True Blood premieres June 26!
Source: IndieWire.com – Nelsan Ellis Of "True Blood" Is Directing Now… Trailer For His First Effort
(Photo credit: indiewire.com)