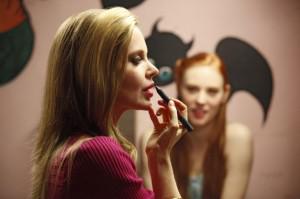 Recently, Annie Tomlin, Senior Editor for Bella Sugar, got to catch up with True Blood's Kristin Bauer van Straten. They were both at the launch party at Sephora for Tarte's new makeup range that has been inspired by the HBO show, True Blood.
The actress appreciates the fact that Tarte does not test on animals, a cause very near and dear to her heart, and is proud that her True Blood makeup artist designed the new line. Her favorite new item is the eyeshadow palette that she likes to call the "Pam palette". It not only has colors that would look fabulous on vampire Pam, but it is packaged in a beautiful corset cover.
Make sure you check out the full interview before you go out and purchase your very own vampire makeup.
Source: Bella Sugar – True Blood's Kristin Bauer On Staying Eternally Beautiful
(Photo Credit: HBO, Inc.)