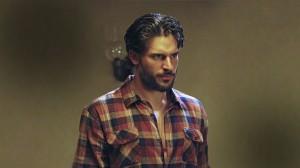 Recently, Joe Manganiello (Alcide in HBO's True Blood) announced on Twitter that he would be appearing on AMC's Talking Dead. This show airs after each episode of The Walking Dead and features (among other things) celebrities, polls and a recap on each episode.
While he didn't appear on the season return episode last Sunday, AMC have just announced on Twitter that Joe will be appearing Sunday the 17th February 10e/9c on AMC. So make sure you tune in this Sunday to see what he has to say about The Walking Dead and HBO's True Blood! 
Actor Joe Manganiello (True Blood) will be on Sunday's Talking Dead. Post questions for The Walking Dead fan here.

— AMC Talking Dead (@AMCTalkingDead) February 12, 2013
AMC have requested that people post questions for them to ask Joe Manganiello on behalf of his fans, so if you have a Twitter account make sure you send your questions to @AMCTalkingDead.
What will you be asking Joe? Let us know in the comments below.
Source: Twitter – @AMCTalkingDead
(Photo Credit: HBO Inc.)