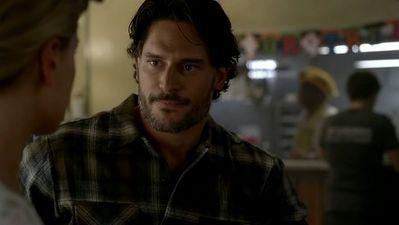 Alcide Herveaux is packing up his bags and leaving Bon Temps for Malibu – but don't worry, it won't be for forever!
HBO's True Blood star Joe Manganiello is set to appear on the Oct. 24 episode of the CBS comedy Two and a Half Men. Manganiello's character will be the hunk-sicle boyfriend of Bridget, the ex-wife of Walden, who is played by Ashton Kutcher. Bridget will be played by Judy Greer.
Manganiello has also been reported to play Big Dick Richie in a Steven Soderbergh movie about male strippers. He will also star opposite Matthew Bomer in an episode of USA's White Collar which will air sometime in January.
Source: EW.com - 'True Blood' star to heat up 'Two and a Half Men' — EXCLUSIVE
(Photo Credit: HBO, Inc.)