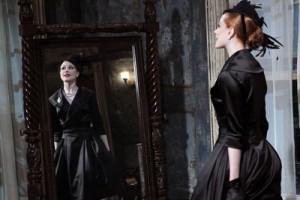 In her latest interview for NYMag.com, Evan Rachel Wood talks about her lack of shock in political scandals, her latest "grown-up" movie, Ides of March, and working with George Clooney as both a director and a fellow actor.
When talking about her Ides of March co-star Ryan Gosling, she muses that he may be this generation's James Dean:
"There's something really special here. It's that striking. I think he's the James Dean of now. And he'd better kiss my ass for saying that."
Wood also shows her lighter side, discussing a recent YouTube video that popped up with her covering Justin Bieber:
"I was in China randomly — I know, it's already weird [laughs] — and I'm a big karaoke fan and I also love Justin Bieber unashamedly."
She mentions that she also made a Janis Joplin video.  Wood goes on to talk about her love of making music and while it's always been a personal passion, it may become something she's interested in pursuing publicly in the future.  It seems that she may join the rank of actors who are a double force in the creative world!
So, do you agree with Evan Rachel Wood that Ryan Gosling is this generation's James Dean?  Do you share her unabashed love of Justin Bieber?  Share your thoughts in the comments below!
Source: NyMag.com - Evan Rachel Wood on Her Justin Bieber Video, Making Music, and Her Ides of March Co-star Ryan Gosling
(Photo Credit: HBO Inc.)