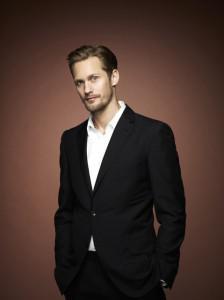 Let's face it, Eric Northman has been through the ringer this season. He's lost and regained his memory, been under the spell of Marnie/Antonia,  and he almost killed King Bill Compton, all the while falling in love with Sookie Stackhouse. So does Alexander Skarsgård know the reactions of his and Sookie's infamous hook-up? Skarsgård says he stays away from blogs and fan sites, but he gets to meet plenty of fans in person and says the feedback has been great this year.
Skarsgård also said:
"It seems people are enjoying Eric's arc, which is great because I had a blast shooting it. I love playing 'Amnesia Eric'. It's such a different side of him and it's always fun as an actor to dig deeper. You learn a lot, and I definitely have this year."
When asked if it was difficult to play a person-within-a-person, Skarsgård wanted to make sure that "Amnesia Eric" was a side of Eric, not a new character, and he wanted to stress that it was very important to him not to lose old Eric. He focused on not losing the predator side of Eric. Skarsgård acknowledges the graphic love scenes between him and co-star Anna Paquin, adding that he has done other explicit work in movies.
After it is pointed out that fans seem to be more attracted to the more innocent and sweeter Eric, Skarsgård believes the reason for this is that, "It's a point of contrast", that the fans are "seeing something open and vulnerable, someone who is willing to connect on a deeper level". He adds that it is great to see this other side of Eric "that's been hidden for almost a thousand years".
Head over to HBO for the full interview, and to find out whether or not Skarsgård believes Sookie likes "dogs".
Source Credit: HBO - Alexander Skarsgård Explores Eric's Sensitive Side – and His Latest Romp With Sookie
(Photo: HBO)