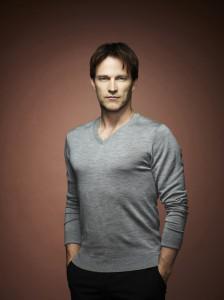 Though the fourth season of HBO's smash hit True Blood has recently come to a close, leaving many fans wondering how to pass time over the long hiatus until the next season begins, Stephen Moyer will be busy filming his new movie The Barrens. Moyer, who plays Vampire King Bill Compton on True Blood will take on the role of a family man who unknowingly puts the lives of his family in mortal danger while on a camping trip. Given that this movie is being directed by Darren Lynn Bousman, who also is responsible for giving millions of movie watchers recurring nightmares from his Saw installments, he will be sure to keep audiences on the edge of their seats in this horror flick.
Moyer must face the legendary creature the Jersey Devil, in the New Jersey forest, the Pine Barrens.  For True Blood fans it will be fascinating to watch Moyer transition from the cold blooded legendary character of a vampire to becoming the victim of a legendary creature. The Barrens is currently in production and scheduled for release in 2012.
In the meantime if you are looking for a Moyer fix, he appears in the recently released spy thriller, The Double which hit theatres October 28.  Moyer plays the part of a Russian spy, who is sought after by a retired CIA opeartive (Richard Gere).  Though Moyer won't be donning any fangs, this flick looks like it will allow him to demonstrate his acting abilities in a very different light.
Sources: IMDb – The Double
slashfilm.com - Blogging the Reel World