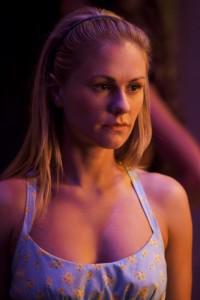 Okay, now we have finally had our fix of a new episode. The next thing is: What were they wearing? Here's a rundown for the fashion (and vampire) inclined.
Sookie
Think Alice in Wonderland for fashion for our favorite barmaid this season. We see her in just he cutest little blue dress ever! She complements the look with one of her classic headbands.
Jason
This season Jason is channeling the 'hot cop' look, complete with a new goatee. While those guys out in Hotshot may think he should be kept in a freezer, I am hoping he gets a chance to strut more of the cop look soon.
Eric
More tanks, more leather, more Eric. Enough said. Nobody does cool and dead like a dead viking. But he has had over a thousand years to get his style right.
Bill
On the other hand, we have Bill. He seems to have finally worked out that Henley shirts are out of fashion, and have been since he died. He is looking more refined this season, which is the only thing befitting a king. The look certainly becomes him. Of course, now he is the bad guy, and we shouldn't be caring one way or the other how he looks!
Wiccans/Witches
This bunch seems to fall into two distinct categories: Hot Librarian and Frumpy. Marnie fits into the latter category. It's strange to see a leader of a coven dressed like she has a floordrobe and no light bulb. The rest of her coven fall into the 'hot librarian' category.
Lafayette
Now here is a man who has no fear of clothes and new and exciting ways to wear them. He has chosen the Mr. T look this season. That or someone placed a ferret on his head while he was sleeping and forgot to tell him. There are more scarves worn as head gear and more pretty long tops that would look great on a girl, but look spectacular on Lafayette.
Pam, Et Al
Pam is continuing with her pink PTA look. She still looks adorable and deadly all rolled into one.
Tara has become Toni. She has ditched the new hairstyle and gone for ultra-smooth locks. She has also taken up fighting as a profession, so expect plenty of shorts and tanks for this girl during Season 4.
Jessica and Hoyt have been raiding the same wardrobe: namely Hoyt's. They both appear in matching jeans and plaid shirts. Jessica, however, does lose this look and take on a dress once she and Hoyt have a domestic.
Can't wait to see what the next episode brings!
Thanks to Randi for bringing us the scoop. Remember Truebies, we welcome your contributions.
Contribution credit: Randi
Source: Fashion Magazine - True Blood recap: We take wardrobe cues from what Sookie wore, what Eric didn't and why Bill got rid of his hideous henleys
(Photo Credit: HBO, Inc.)