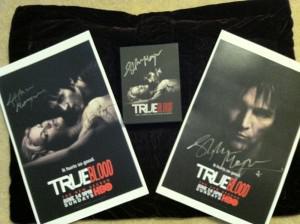 Starting on October 11 at 6pm EDT, Simply Moyer has begun auctioning two True Blood Season 2 posters (One signed by Moyer, the other by Moyer and Paquin) and a Season 2 DVD set (signed by Moyer and Paquin) to benefit the charity Facing the World.  The auction can be found here.  All auction proceeds (minus fees) will benefit Facing the World, Moyer's favorite charity.
Also, actor Robert Portal (Moyer's close friend and Best Man at his wedding) and well-known, London personal trainer James Cash will row across the Atlantic Ocean, beginning December 4th to raise money for the same charity.
To find out more about Facing the Atlantic/ Facing the World, please visit SimplyMoyer.com
We'd like to thank Sheryl at SimplyMoyer.com for giving us the scoop! Remember Truebies, if you have any True Blood related news, send it our way!
Source: SimplyMoyer.com
Photo: SimplyMoyer.com