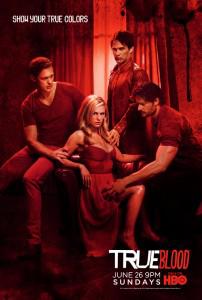 The cast of True Blood made their appearance at Comic-Con this past weekend and looked good doing so!  Many of the cast members, as well as creator Alan Ball, were there and took part in the discussion.  Fortunately for us, many of the questions we have regarding Season 4 were answered or at least alluded to!  (Click here to see pictures of the cast at Comic-Con)
Jason/Jessica/Hoyt Possible Love Triangle?
One of the most burning questions after last week's episode was:  What will happen between Jessica and Jason now that Jason has ingested her blood? Deborah Ann Woll (Jessica) was the first to comment suggesting that she's more interested to see what will happen to Jason once the effects of the V wear off.  Jason's ceremonial werepanther rape scenes were also a topic for discussion.  Ryan Kwanten (Jason) joked that he felt Jason might have actually enjoyed being called "ghost daddy."  Kwanten also stated that filming those scenes was quite the challenge for him, considering he was only able to use his face in order to act them out.
The Origin of Eric's New Attire?
Perhaps one of the more humorous discussions was the topic of Eric's new wardrobe upon his unexpected arrival at Sookie's place.  Alexander Skarsgård (Eric) suggested that his new choice of attire more than likely wasn't Jason's but could possibly be something that Hoyt might have left behind at some point in time.  Skarsgård joked:
"It's the mystery of the season."
while Alan Ball added that it was a "really dorky outfit," but one that Skarsgård could wear "and still be insanely hot."  I must admit, I second that notion!
What Will Come of Bill & Portia's Relationship?
When the topic of Bill's incestuous relationship with Portia Bellefleur (Courtney Ford) was brought up, Stephen Moyer joked that it would have probably been a good idea for Bill to have "gone to the local library," and then added, "maybe it wasn't open at night."  Moyer reassured the crowd that Bill and Portia will see each other again but that at the moment, "Bill has bigger fish to fry."
Pam's Appalling New Look:
Kristin Bauer van Straten (Pam) discussed the current state of her morbid appearance and how time-consuming the process was to look that convincing.  She added that one way they achieved her dreadful appearance included a mixture of tapioca pudding and coffee grinds.  When asked whether or not we would get to see how and why Eric created Pam, his progeny, Ball was quick to answer no.  He added that we'll "definitely see it in Season 5."
Is Baby Mikey Evil?
Another pressing topic was that of baby Mikey.  Is something wrong with him or is it that dreaded doll that keeps showing up?  Is René's evil spirit haunting Arlene?  When asked if we would find out what exactly is going on with Arlene's baby, Ball answered:
"Yes, we will find out, and it's something really creepy."
There you have it folks, straight from the usually-more-cryptic horse's mouth. Is this going to be a good season, or what?
Sources: Buzz Sugar - True Blood 2011 Comic-Con Panel
Pop Sugar - Pictures of True Blood's Stephen Moyer, Anna Paquin, Alexander Skarsgård, and More at Comic-Con
(Image credit: HBO)