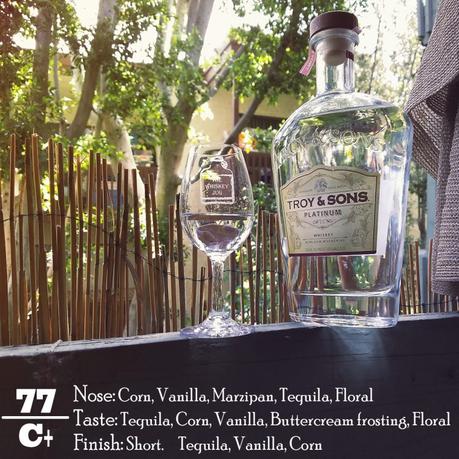 Troy and Sons Platinum is the un-aged, new make, version of the Troy and Sons Oak Reserve. It's the "moonshine" that gets put into used oak barrels to mellow and mature into the aged product. Obviously, tasting it next to that aged product is incredibly interesting because they have such different characteristics. Made from the exact same ingredients the only differentiating factor is the oak. Though before the oak comes the new-make.
Quality new-make is a huge factor in whiskey making. If your new-make tastes and smells like utter swill the final product does't have much hope. That's one of the reasons why I like tasting new-make, or "moonshine", from distilleries. I like being able to see where something started from and taste it next to what it became. To my mind exploring and experiencing this evolution is a necessary experience for any whiskey connoisseur. Which is exactly why I'm drinking, and reviewing, the Troy and Sons Platinum.
Troy and Sons Platinum Info
Region: North Carolina, USA
Distiller: Asheville Distilling
Mashbill: 100% Crooked Creek Corn
Cask: ex-Bourbon
Age: NAS
ABV: 40%
Price: $45*
Troy and Sons Platinum Review
EYE
Clear
NOSE
Bold notes of corn, vanilla, marzipan and a light floral character that balances against a silver-tequila-like character.
PALATE
An overall silver-tequila-like character with underpinnings of corn, vanilla, buttercream frosting and floral.
FINISH
Short and tasted like silver tequila, corn and vanilla.
BALANCE, BODY & FEEL
Great balance, medium body and round silken feel.
OVERALL
Aged whiskey gets all of its color and a large portion of its flavor from being placed in oak. That oak character is what attracts most people to whiskey like bourbon and scotch because it softens, refines and adds complexity to the new-make spirit. It's what we as whiskey nerds love, but it all starts here. It all starts with well crafted new-make like the Troy and Sons Platinum. Which may not be able to hold a candle to the complexity and nuances of well aged whiskey, but can have a beauty all its own.
Even though it doesn't scream whiskey the tequila-like nature of the Troy and Sons Platinum is bold and flavorful. It's one of the few white whiskeys that I've come back to several times for a nip and change up my drinking experiences. It's perfectly palatable so long as you're not looking for "A Whiskey". If you are, you're going to be disappointed.
SCORE: 77/100 (C+)
*Disclosure: This Troy and Sons Platinum was graciously sent to me by the company for the purposes of this review. The views, opinions, and tasting notes are 100% my own.