Trouble In Paradise for Miley Cyrus & Liam Hemsworth…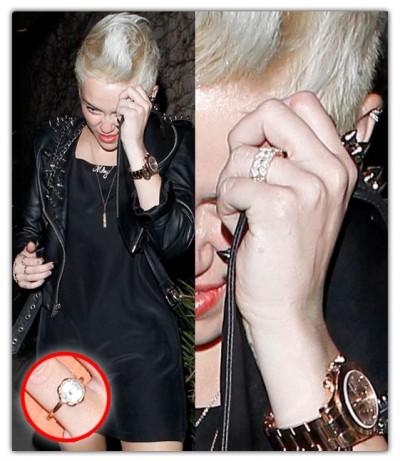 On the very day that she tweeted denying that she and her former Last Song costar Hemsworth are on the outs. "I didn't call off my wedding," she tweeted. "Taking a break from social media. #draining."  Miley Cyrus, the 20 year old singer headed to a recording studio in Los Angeles in an all-black outfit, complete with a spiked leather jacket. She did have some jewelry on her hand, but one couldn't help but notice that she displayed two rings on her engagement finger that was not the bauble fiancé Liam Hemsworth gave her when he proposed to her last May. Her engagement ring from fiancé Liam Hemsworth was designed by Neil Lane. The bauble features 3.5 carats, with a center stone that dates back to the 19th century.
The rumors began to surface after the two partied separately on Oscar's weekend and Liam's alleged flirting with Emma Watson and January Jones was the cause for growing concern between the pair. Liam is apparently not happy with the fact that his fiancé has resumed work.
"She knew that it was going to cause a scene, as much as she says she hates all the talk, she actually loves it because it will get Liam to see these pictures and have him see her more. She is playing games against the media and Liam."
Not sure if that is the most mature and healthy way to approach things, but at least it seems like the relationship is having only a few bumps rather than a complete meltdown. Hopefully the next time we see Miley, she will be in Liam's arms, with her ring back on her finger!
As of now we are happy with the fact that the couple hasn't called it quits….