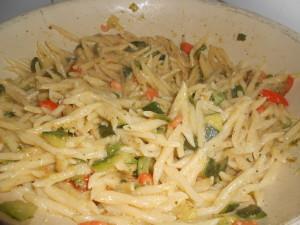 A chi non piace mangiare? Io faccio decisamente parte di quel cospicuo gruppo che non solo ama mangiare ma ama molto la pasta .
Con la pasta è abbastanza facile variare perché si riescono a realizzare delle varianti decisamente interessanti.
Basta solo tanta fantasia
Ecco cosa ho sperimentato l'altra sera ( che sicuramente no è nulla né di nuovo né di innovativo) e vorrei condividerlo visto che è facile veloce e soprattutto buono.
COSA SERVE
Gamberetti
Zucchine
Aglio
Erba cipollina
Parta
Olio d'oliva
Sale
COSA FARE
Tagliare le zucchine a cubetti
Mettere in una pentola dell'aglio e olio far soffriggere un poco
Mettere le zucchine e farle cuocere per circa 15 minuti
Aggiungere dopo i 10 minuti dalla cottura i pomodorini tagliati
Aggiungere a 5 minuti dalla fine della cottura i gamberetti affinchè tutti gli ingredienti possano ben mescolarsi
Far bollire l'acqua e gettare la pasta
Una volta scolata un minuto prima della reale cottura , versare la pasta nel condiomento e mescolare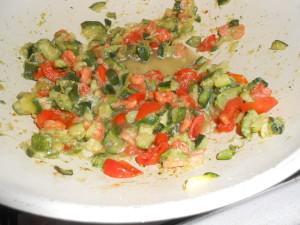 Manca un'ultima cosa. Un ottima bicchiere di vino
Do you like to eat? I like very much and I love above all pasta
You can have many recipe with pasta. You just need imagination
Here's what I cooked last night (which is certainly not anything new nor innovative nor) and I would like to share it because it's easy, fast and tasty.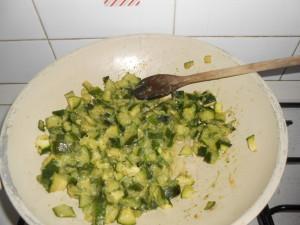 WHAT DO YOU NEED
Shrimps
Zucchini
Garlic
Chives
Pasta
Olive oil
Salt
Tomatoes
WHAT TO DO
Cut the zucchini into cubes
Put the garlic in a pot and fry with a little of olive oil
Cook zucchini for about 15 minutes
During these 15 minutes add the tomoteos cut into cubes
The last 5 minutes add the shrimps
Boil the water and cook pasta
When pasta is ready mix with all
Last but not least..time to eat!
About The Author

About Italy