I thought I'd share with you some of the things that I loved and hated this month, the triumphs and the failures!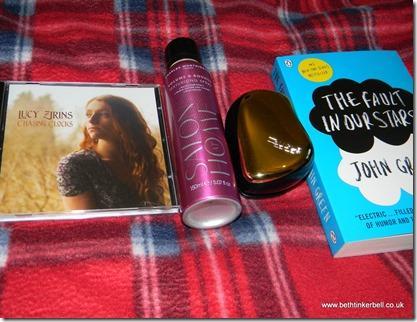 First up is Chasing Clocks by Lucy Zirins, I have fallen completely in love with this album, and can be found killing it in my car (sorry Lucy!). I went to college with Lucy and for some reason I'd never heard her music until January, I don't know how that happened. I stumbled across Lucy on Spotify when I was looking for something new to listen to. Once I'd been listening for a couple of hours I just new that I had to pick up her album!
You can listen to Lucy on here on Spotify, or visit her website here.
For my hair I've been loving the Charles Worthington Salon at Home Volume & Bounce Texturising spray. Since I've had my hair chopped I've been looking for a great product to add volume and this is it. I tend to straighten my hair and then spritz this through it and then I'll usually just ruffle my fingers through it.
The TangleTeezer is both a triumph and a failure, I do enjoy using it and the size is perfect to fit in my hand and for brushing my hair. However, I find the bristles too short to get all the way through my thick hair, so it's not as quick and easy to use as I imagined it would be.
My big failure this month is The Fault in our Stars by John Green. I have heard such good things about the book, so I knew it was one I had to read but it just didn't work for me. I couldn't connect with the characters and I don't even know what the point of the book was. I cannot understand why it has been made into a film, and I won't be going to see it.
Would you like to see more Triumphs and Failures posts in the future?
Tink x
Ps. I'm planning on hosting a book swap, you can find more info here.