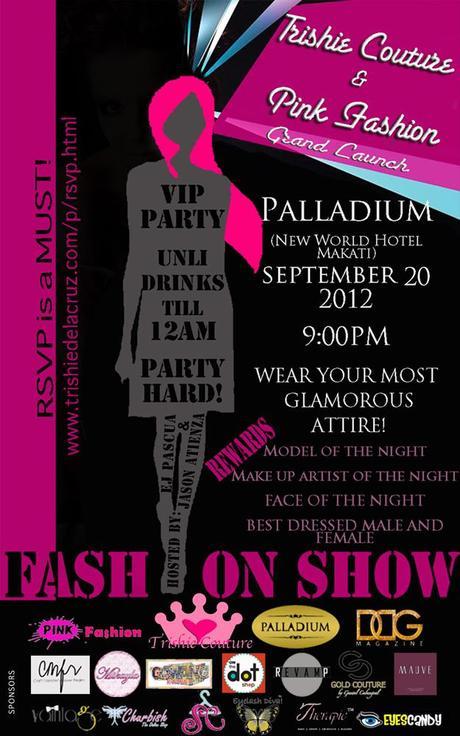 Trishie Couture Grand Launch
Come and Celebrate with Trishie's success and witness her very first collection in a one glamorous night! 
Wear your most glamorous attire and get a chance to win the Best Dressed Male and Female Award as well as the Face of the Night Award! Plus, The event will cover and publish by DDG Magazine's December Issue! 
Meet new gorgeous friends and ready yourself coz you may be call for a body shot, beer bong contest and many more exciting games with fabulous prizes! 
Dance & groove to the Best mix of  RnB HipHop MashUp Top40 by DJs:
Int'l DJ from London – Dj Vadim 
& CUE DJs
Jay Fernandez 
Dennis Dorendez 
& Palladium's Resident DJ:
LadyTrinity 
Dont Think About It! ITS ALL FREE!  ALL ON US!
Yep, ENTRANCE and DRINKS are FREE. (Unlimited Drinks till 12am) 
 YOU JUST NEED TO submit your names here: 
http://www.trishiedelacruz.com/p/rsvp.html
Too bad I can't be there. HOWEVER, ALL OF MY READERS ARE INVITED! RSVP NOW

*NO RSVP NO ENTRY*
SEE YOU!