Butuan City's first ever spa salon (formerly named Body & Sole) now called Manja is offering a whole new range of beauty and wellness services that will cater to their long-time patrons.
Aqua Peels (aka Hydra facials, Hydradermabrasion) are the new rage in the world of dermabrasion. It was popularized by Korean beauty innovators. It is summed up in this article I found on Net-a-Porter:
"These express treatments blitz pores with an exfoliating water-based gel and a suction device that literally pulls out gunk from the skin and removes blackheads, while skin is flooded with moisture. It's often combined with other powerful active ingredients to really deliver a punch."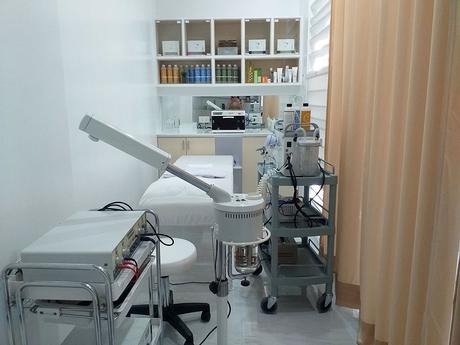 Manja's Aqua Glow treatment is part of their newer list of facial care services in line with the extension of their spa and salon place. I got to experience it first and it was done in their new skin treatment center no less. 🙂
There's no better way to explain how luxe the experience is so allow me to describe the whole treatment process:
Cleansing – No explanation needed. Every procedure has to start with a clean face.
Steaming – This opens up the pores and readies the skin for the next step.
Exfoliating – Using the solutions used it floods the skin with active ingredients while the suction helps remove all the impurities out. It isn't painful at all. I find it satisfying knowing that all those clogged and congested pores are getting the deep clean they deserve. Haha!
Now let's talk about the solutions used for the peel: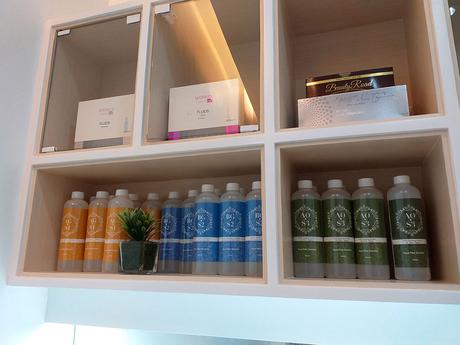 AG S1 – It is composed of active ingredients: Lactic acid, Yeast extract, Green tea extract, and Algae extracts. The AHA in this solution help slough off dead skin cells. It is water soluble so it cleans the topmost layer of the skin.
AG S2 – It is composed of active ingredients: Salicylic acid, Lactic acid, Sodium lactate, Aloe vera extract, Honey extract, and Allantoin. The BHA is oil-soluble so it is able to clean and unclog pores effectively. The solution is packed with AHA, BHA, as well as hydrating ingredients to keep the skin moisturized after treatment.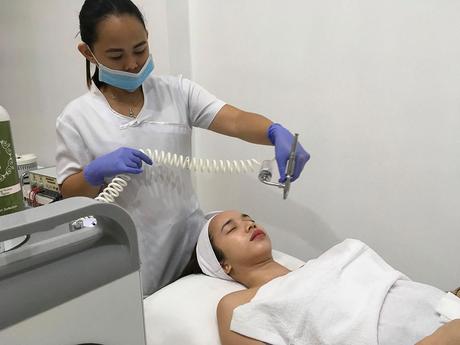 AG S3 – It is composed of active ingredients: Vitamin C, Vitamin E, Aloe vera, Green tea extract, Glycosyl trehalous, and hydrogenated starch hydrolysate. The last solution is applied to the skin using the airbrush-like device helping the serum penetrate even better. I love that Vit C & E are used last in the step because these have regenerative and antioxidant properties. The other ingredients help calm the skin post-exfoliation and it also has vegetable collagen and humectants too.
Cold Compress – Once the products are fully absorbed. This is done to close the pores. It's pretty relaxing. I enjoyed it!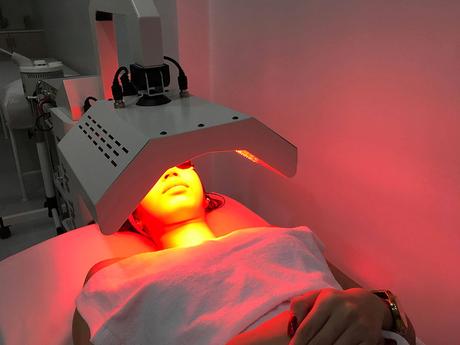 Light Therapy – This is what I am looking forward to the most. This is the edge of Aqua Glow from the regular Aqua Peel treatment. LED therapy does wonders for the skin. If you haven't read about it, here's an article from Huffington Post. Red light is for anti-aging & skin rejuenation while the blue is for anti-inflammatory & acne-problems.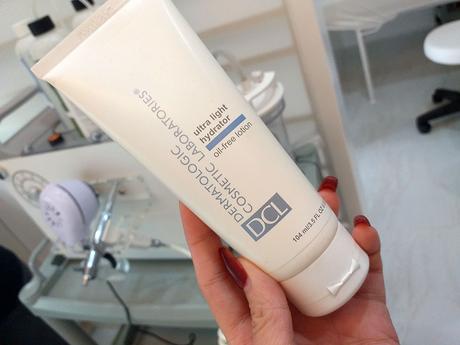 Moisturizer & Sunscreen – The last step. Time to lock in the in all the goodness by sealing it in with a good cosmetic grade moisturizer. Sunscreen is a must too since chemical exfoliators make our skin photosensitive.
The Aqua Glow treatment costs Php1800 per session while the traditional Aqua Peel (without the LED light therapy) costs Php1500.
Final Thoughts
My thoughts for the overall experience? I loved every minute of it. I wish I could do this more often! It is quite nice to pamper yourself sometime and have someone do your skincare steps for you with some added extra features. I am surprised that after all the procedures done, it didn't leave my skin red or irritated. I left the place with super glowy face. I highly recommend this if you're someone who has dull tired looking skin or maybe if you have a special event coming up and you needed that extra oomph for your face. Treat yourself. You deserve it!
Share this Post